Head of College Scholars List Scheme
Overview
Overview
The Head of College Scholars' List Scheme was founded in 2012 by Prof. Anna Dominiczak, Head of the College of Medical, Veterinary and Life Sciences. The 'Scholars' List' Scheme is aimed at recognizing outstanding undergraduate Level 2 and Level 3 scholars from across all areas of the College including medicine, nursing, dentistry, veterinary medicine and life sciences (see 'History/Background' tab). Students who are placed in the top 10% of their class in assessments in the previous year and who take an active part in the associated extracurricular scheme will be added to the Scholars List, an achievement that will be noted on their Higher Education Achievement Record (HEAR).
The Scholars' List Scheme is intended as an extracurricular vehicle to foster the next generation of biomedical researchers. It is intended to stimulate awareness of modern biomedical research and to expose students to the reality, excitement and challenge of research. All students placing in the top 10% of their cohort in Level 1 and Level 2 will be invited to take part in a number of collective and small group events aimed at exposing them to cutting edge biomedical research underway at the University of Glasgow (see 'Events' tab).
A cornerstone of modern biomedical research is its interdisciplinary nature: methods, approaches, collaborators are chosen on the basis of their appropriateness to address the question at hand, and are not restricted by narrow or even broad disciplinary constraints. Indeed, the broad and integrated nature of the College reflects the importance of interdisciplinarity in modern research. To help foster an interdisciplinary mindset in the next generation of researchers, the Scholars List Scheme will involve mixing groups of students from across the College and exposing them to the breath of research from across the College (see 'Recent Research Highlights' tab).
Finally, some funds have been put aside to support students undertaking short Summer Research placements. The number of funded placements will be limited. Students and mentors will have the opportunity to apply and compete for placements which will be allocated on the basis of merit and strength of proposal (see 'Events' tab).
History / Background
History / Background
The Head of College Scholars list was founded in 2012 by the Head of College, Prof. Anna Dominiczak, with the support of the senior management group of the College. The scheme is run by a steering committee convened by Prof. Maureen Bain, Dean for Learning and Teaching, and comprising representatives of the Undergraduate Schools and degrees within the College: Prof. Matthew Walters (School of Medicine), Prof. Jim Anderson (School of Veterinary Medicine) and Dr. Joe Gray (School of Life Sciences).
The nucleus of the Scholars' List began in the old Institute of Biomedical and Life Sciences (FBLS). In 2007, the FBLS Dean, Prof. Paul Hagan and the Head of the Life Sciences Teaching, Dr. Rob Aitken, founded the Dean's Group scheme intended to expose L1 students to research and researchers in FBLS. Dr. Joseph Gray took over the running of the Dean's Group in 2008 and the scheme rapidly expanded to include both L1 and L2 students from across FBLS. Leading researchers volunteered to host small group laboratory visits/tutorials intended to expose students to the excitement of modern biological research. A small number of Summer Research Placements were also made available. The scheme has been hugely successful and has involved over 100 students and 20-30 staff in any one year. One of the students, Mr. Alan Passey, surveyed his fellow students who took part in the scheme and wrote an opinion piece on the Dean's Group for the FBLS newsletter (see "The student perspective" tab). Mr. Passey is now a PhD student at Imperial College London.
The formation of the MVLS College in 2010 provided the opportunity to adopt and modify the ethos of the Dean's Group for the needs of the College. This has lead to the formation of the HoC Scholars' List Scheme in 2012 for students from across the College of MVLS.
Events
Students who agree to take part in the HoC Scholar's List Scheme will be invited to large, collective meetings as well as small group meetings. Each student is required to attend 3 out of 4 meetings where attendance is monitored.
Large Meetings:
There will be two large meetings of the HoC Scholar's List in the 2019-2020 academic year, one in each Semester. At each meeting a guest academic from the College will give a plenary talk and then 2-3 students who have received a summer scholarship will be invited to be asked to reflect on their experiences. These meetings are informal and are intended to allow for social interactions between students from across the College and with the staff presenters.
The first large group meeting will be held on the 19th November 2019 (18:00-20:30), Boyd Orr Lecutre Theatre 2. The plenary speaker will be Dr Sophie Bradley.
The second large group meeting will be held on the 3rd March 2020 (18:00-20:30), Boyd Orr Lecture Theatre 1. The plenary speaker will be Professor Robert Insall.
Small group Meetings:
The Small group meetings with researchers from across the college will take place between December 2019 and February 2020. The format of these small group meetings is flexible with the aim of giving students a chance to talk to MVLS staff who are actively engaged in world class research and exploration. Students can choose which researcher they would like to meet based on their own availability and their own research interests. Each small group is limited to a maximum of 8 students and students can attend 2 seperate meetings. The dates and time slots for the small group meetings will be available by the end of October 2019.
The Student Perspective
The Student Perspective
"Overall I found the studentship to be an incredibly valuable experience. I was taught a wide variety of lab techniques such as cell culture, making SDS gels, western blotting, buffer preparation and protein purification. All of which will be very useful throughout the rest of my undergraduate degree and my future career. I was continually encouraged to ask questions and to interpret my own results. I increased in confidence over the six weeks and was increasingly given greater responsibility for my own experiments as the project progressed. Everyone in the lab was very helpful and gave up a lot of their time to assist me. They were also glad to talk to me about their projects and career paths. This enabled me to gain a greater insight into what it would be like to work in an academic research environment and what a PhD would involve. Completing this placement has confirmed my interest in a career in research and in perhaps completing a PhD after finishing my undergraduate degree".
(Summer studentship student 2014 – 15)
---
Overall I think the HoCSLS was great, it was very informative and interesting. It helped me decide what to do after my undergraduate course and to choose whether I want to do the integrated Master's degree or not.
---
What I enjoyed most about the scheme was that it allowed us to learn about another road we could take with our studies. Being a dental student, we are trained to ultimately become dentists but I now see that I could always go into research with my degree which could be a very interesting and rewarding career. Research was something I didn't know a lot about so I had never really considered it but now that I am a lot better informed, I feel as though this is something I would consider in the future.
---
I was grateful for the opportunity to be involved in the scheme, it was very informative and showed me how research was put into practice. It was also encouraging to see other students doing so well! Overall, I believe the scheme was very beneficial and has given me the confidence boost I needed to pursue my career further.
---
I really enjoyed the talks and presentations from students who did projects. They were all informative and interesting to listen to. The tutor session was also good and it was nice to be in a smaller group as it was much more engaging than the usual sessions.
---
I highly enjoyed the Head of College Scholars List Scheme this year. What I found the best was how informative the sessions held by keynote speakers and other academics was. It really helped me make my decision as to whether I wanted to pursue a career in research. As well as this, I am one of the students who acquired a placement and received £1000 funding. I think this offer of funding is an excellent idea, and motivates students to search for a research placement. Having previous students talk as well was very helpful as it explained how you would go about getting a summer placement.
---
It was very helpful that professors were talking not only about their research, but also about their career choices, personal life. Also I enjoyed small meetings, because topics were always interesting and different, it was easier to ask questions in smaller group, and it was nice to meet other students. It was also good that big meetings were arranged after lectures.
---
I thought that it was good that we had talks from both staff who were experienced with research and from students. I thought this as it gave contrasting viewpoints both from an inexperienced student's perspective on stepping into research for the first time, as well the more experienced view from someone who was very knowledgeable in their field.
---
Most of all I really enjoyed my two meetings. I had a lovely group of students, and the sessions were really interesting and inspiring. I got on really well with a couple of the students; it's great to have made some contacts for the future. The meetings also helped me narrow down my list of career options which was really helpful.
---
I was very pleased to be given the opportunity to listen to ongoing ground breaking research. Most importantly, the meetings were eye openers to the diverse internship opportunities that were available.
---
It was inviting and the staff involved are all very friendly What was not so good about the Scheme As a medical student, it felt somewhat random to be invited for one-to-one career advice/research opportunities by someone in the field of molecular biology. It was very niche, and I think the member of staff was quite surprised that I was there. Also, I was unable to attend any of the lecture sessions due to work commitments and wasn't really given the chance to make up for this.
---
It was an amazing experience for me as it allowed me to directly see what research really means and its main aspects.
---
I thought the scheme was good as it encouraged me to get a summer placement by emphasising the benefits of them. I liked that it brought you into contact with lecturers and university staff outside the lecture environment.
---
I really enjoyed being part of the Scholars List since I felt that it exposed me to a bigger picture beyond the medical curriculum. I particularly enjoyed the lectures given on current research, especially the first lecture on TNF-alpha since it was very relevant to my course. I am also grateful for the opportunity to meet new people from other courses-I enjoyed spending time with them on our visit to the cancer research centre in Garscube.
---
Applications for Summer Studentships 2019
One year on, including studentship reports
Head of Scholars List Scheme 18/19
The scheme is now in its seventh year. A total of 225 undergraduate students from the Schools of Medicine, Dentistry and Nursing; Life Sciences; and Veterinary Medicine in levels 2 and 3 completed the Head of College Scholars List Scheme this year. Professor Sarah Cleveland (Institute of BAHCM) and Professor George Baillie (Dean of the graduate School, Institute of MBSB) gave a keynote presentation at each of two large group meetings. Six undergraduate students also presented their summer research projects and talked about their experiences. A large number of MVLS research staff also hosted groups of students for small group meetings. I am extremely grateful to these colleagues for their support of the Scheme. This year we also funded ten summer studentships – details can be found below. Feedback on the scheme this year has been very positive (figure 1) with some great suggestions on how we can improve upon the format for next year.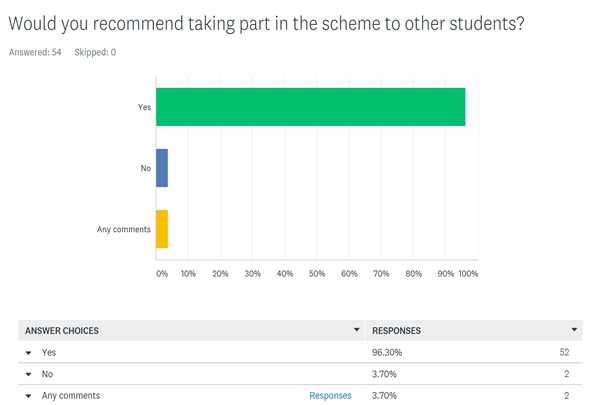 Figure 1: excerpt from survey of students who participated in the HoC Scholarship Scheme 2018-19 (Note Links to Student Project Reports coming soon)
Students/supervisors who have received summer studentships in the Head of College Scholars List Scheme and links to student reports (where available).
| | |
| --- | --- |
| 2018/19 | |
| Student | Supervisor |
| Calum Mooney, Medicine 2 | Prof Eleanor Davies |
| Matthew Cunningham, Medicine 2 | Dr Charles McSharry |
| Yong Fi, Medicine 2 | Dr James Park |
| Miren Summers, Life Sciences 2 | Prof James Leiper |
| Monika Petrauskyte, Life Sciences 2 | Prof Stuart Nicklin |
| Leen Al-Mohammad, Life Sciences 2 | Prof George Baillie |
| Michaela Kolmosova, Life Sciences 2 | Prof Andrew Todd |
| Roman Hajdu, Life Sciences 2 | Prof Nikolaj Gadegaard |
| Alison Purcell, Life Sciences 2 | Dr Kristina Kirschner |
| Jennifer Allison Yu, Vet Medicine 2 | Dr William Weir |
| | |
| --- | --- |
| 2017/18 | |
| Student | Supervisor |
| Rifah Abdullah, Life Sciences 2 | Prof Helen Minnis |
| Jack Barber, Life Sciences 2 | Dr Gillian Douce |
| Keila Navarrao I Batista, Life Sciences 3 | Prof Andrew Todd |
| William Docherty-Boyd, Life Sciences 2 | Dr Tansey Hammarton |
| Hanna Eriksson, Life Sciences 2 | Dr Joanne Edwards |
| Eliska Kosova, Life Sciences 2 | Dr Sofie Spatharis |
| Alina Kurjan, Life Sciences 3 | Dr Julia Cordero |
| Federico Lupo, Life Sciences 3 | Dr Thomas Otto |
| Tomas Martak, Life Sciences 2 | Dr Brian Smith |
| Lauren Sedgley, Life Sciences 3 | Prof Christine Edwards |
| Stuart Smith, Life Sciences 2 | Prof Annette MacLeod |
| Iona Wallace, Life Sciences 2 | Prof Michael Blatt |
| Khai Syuen Chew, Medicine 2 | Prof Christian Delles |
| Ramandeep Gill, Medicine 3 | Prof Anthony Chalmers |
| Matthew Henderson, Medicine 3 | Prof Colin Berry |
| Paul McMillan, Medicine 2 | Dr Neal Millar |