New study delves into origins of Scots place-names
New study delves into origins of Scots place-names
Issued: Mon, 31 Oct 2016 13:00:00 GMT
What is in a name? Well researchers at the University of Glasgow have discovered many Scottish place names reveal a lot about the country's past culture, heritage and history.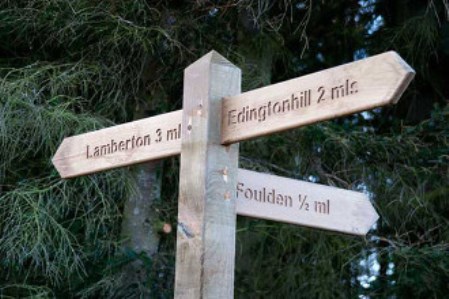 The village of 'Bemersyde' is named from bitterns, and the parish of 'Cranshaws' from cranes, both once common but now extremely rare birds which flourished in the Scottish countryside; 'Wolf Cleugh' named after the once common wolf, which hunted Scottish woodlands and forests but have been extinct for a few centuries; and what was the worm of 'Wormerlaw'? Probably not a creature but a derivative from an Old English personal name Wulfmær.

Berwickshire place-names are currently the focus of a major research project based at the University of Glasgow: 'Recovering the Earliest English Language in Scotland'.

Funded by The Leverhulme Trust, a five-strong team from the School of Critical Studies are engaged in a three-year investigation into the earliest roots of the Scots language.

Place-names are the main source of evidence for Anglo-Saxon settlement in northern Britain, and for the Northumbrian dialect of Old English, which developed into Older Scots and northern Middle English.

The project, which began in January, makes the first sustained attempt to research Anglo-Saxon place-names in Scotland. Building on the momentum of the recently inaugurated Survey of Scottish Place-Names, it centres on Berwickshire, the heartland of Anglo-Saxon settlement in Scotland, in order to examine the linguistic features of Old Northumbrian.

Professor Carole Hough, principal investigator of the project, said: "Like Middle English, Older Scots is a descendant of Old English, but it is uncertain how far the differences reflect the respective varieties of Old English from which they derive, and how far they result from interaction with other languages, particularly Old Norse.

"With no evidence of major Norse settlement in the Borders, there is greater continuity of language from Old English to Scots here than elsewhere, so this is the best opportunity we have to establish which features of Scots derive from Old Northumbrian rather than from Old Norse."

The project, running until 2019, will create a fully searchable website of Berwickshire place-names designed for both public and academic use. It will cover a comprehensive survey of six parishes: Coldstream, Eccles, Foulden, Hutton, Ladykirk and Mordington.

Dr Simon Taylor, co-investigator of the project, said: "Berwickshire's place-names derive from a range of Celtic and Germanic languages including Brittonic, Gaelic, Old English and Old Norse; most later names are from Scots. As evidence of Scotland's complex linguistic past they are of immense value.

"We aim to understand more fully not only the characteristics of the Old Northumbrian dialect, but to discover how Older Scots came to differ from northern Middle English. The project thus addresses one of the most important gaps in current knowledge of English historical linguistics – the earliest form of English spoken in Scotland."

The project will publish the first of a series of academic volumes on Berwickshire place-names as part of the Survey of Scottish Place-Names, as well as contributing journal articles, conference papers and exhibitions highlighting the research findings.
---
Further information contact Jane Chilton, Communications Office 0141 330 3535 / email Jane.Chilton@glasgow.ac.uk