British Library: Preserving the cultural sound of the nation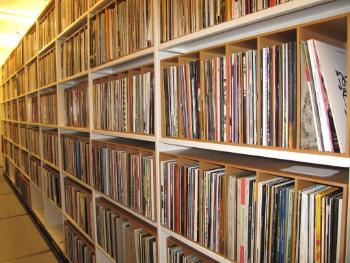 Andy Linehan is the Curator of Popular Music Collections in the Sound and Vision Department in the British Library, responsible for ensuring that the creative output of UK performers is archived for future generations. Andy's role has evolved since he began working in the British Library in the analogue 1980s. As Andy notes, he needs to constantly be aware of industry changes in order to reflect UK artists and their creative processes within the Library's collections. Not only is knowledge of popular music and the growth of genres important, but also an ability to keep up with changes in technology, from CDs and mini discs, to digital files. The UK has been extremely influential globally, especially in western pop music tradition. "It's only right" Andy says, "that the British Library, as the cultural memory of the nation, has this sort of material in its archive."
What's out there, and should it be collected?
Archiving the sounds of the UK does pose some challenges. Although the British Library collects recordings, it doesn't have the benefit of a legal deposit process akin to that associated with print publications; there is no legal requirement for artists to submit copies of their recordings to the British Library. Consequently, Andy and his colleagues must rely on donations from record labels, individuals, and collectors. However, Andy notes that there are international standards for archiving digital sound recordings; guidance for storage and ensuring recordings are backed up, and the British Library has a skilled team of sound engineers and technical staff who help to make archiving music easier.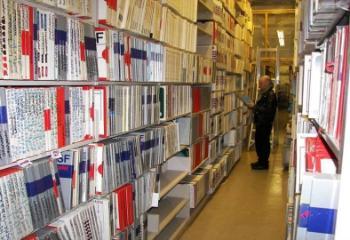 Andy states that simply knowing "what's out there" can prove tricky, as can the need to regularly revise the criteria used when collecting new material. Indeed, advances in recording technology means that artists can work digitally, and no longer need to hire a studio. They can collaborate with others based in different countries, or even just record using a laptop. This then raises questions as to whether records constitute UK releases, or if they are valid recordings for the British Library to collect. This is something that Andy and his colleagues are keenly aware of, and they are working to find appropriate criteria.
Supporting academics
Academics represent a key user group of the Popular Music Collections, and Andy is keen to ensure that their work is supported. The knowledge of academics researching popular music is valuable. Some create resources which need to be archived, such as industry interviews or field recordings, which have been donated to Andy and his team in the past. Andy stresses that he and his colleagues at the British Library are keen to support academics, and will work with them to produce recordings, helping to ensure that they are produced to appropriate standards. According to Andy, if the British Library is made aware of the resources and access required for future generations of academics, they can facilitate this.
Are you based in the cultural heritage sector? Get in touch – we'd love to hear about the challenges you and your organisation are facing? You can also join our Digital Cultural Catalyst and collaborate with your peers to tackle shared issues.
---
First published: 10 May 2022