National Library of Scotland: Making Every Voice Heard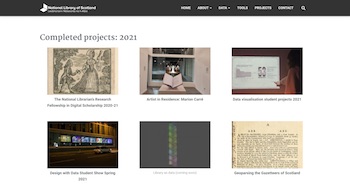 Alison Stevenson is Associate Director for Collections and Research at the National Library of Scotland, NLS. Alison started her career as a computer programmer and took on a role working on a book digitisation project in New Zealand. That project was based in a university library and she discovered what a wonderful place libraries are to work in and has worked in them ever since.
The diverse collections held in NLS range from: books to manuscripts; maps to moving image to sound and music; web archive to e-books and e-journals.; and so much more. The digital collections are a mix of 'born digital' material such as digital video and email correspondence as well as digitised copies of physical material. All of these materials "represent part of Scotland's digital cultural heritage and all require preservation" explains Alison. "All of it has value for us now and for people in the future" she continued.
"At the National Library we have a strategic goal to have one third of our collections in digital format by our centenary in 2025" Alison explained.
To achieve this ambitious goal there are several challenges facing NLS. First the technical challenges around the preservation of digital collections in a sustainable manner. Once digitised there is the consideration of digital security in the face of potentially increasing cyber security threats. However, one of the most important aspects to NLS of collecting this digital cultural heritage is ensuring people can easily access it. There are many elements to this: supporting good discovery tools, managing rights to enable the widest possible access, meeting web accessibility guidelines and working towards providing subtitles and audio descriptions.
The Library aims to help people to use the collections in the most creative ways possible.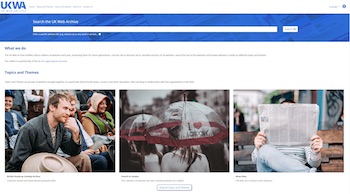 One example is the creation of the Data Foundry, "which is a place in which you can download datasets based on digital cultural heritage" described Alison. Connections between collections using metadata now drives scholarship in new ways which would not be possible if these collections were not in digital format.
Alison explains that the NLS welcomes diverse audiences, from the public to the academic sector, whether "in their research or for their leisure pursuits or for their personal family history or anything else that they might wish to use the collections for".
"Our Higher education partners assist us to think about the research that is needed to make sure that we continually expand our knowledge of how to care for these collections. University libraries and archives are facing the same sorts of challenges as we are: how do you collect digitally; how do you preserve; how do you engage audiences; how do you take advantage of the fact that this material can be put on the web, in some cases or made available to API programmatic interrogation in other cases," explained Alison.
One of the interesting areas for the NLS and other similar organisations is how the process of collecting or preserving digital cultural heritage might be reflecting or sustaining some of the imbalances that exist in collections. For example, NLS are conscious of "silences in some of the collections because not everybody's voice gets published, not everyone's story gets told. Are there potential ways to work with digital cultural heritage, particularly that which is generated by communities or individuals relating to their communities. That means we are better now at collecting a diverse range of voices from Scotland," detailed Alison. The mandate at the National Library is looking at Scottish cultural heritage and how they make sure that when they explore the preservation of digital cultural heritage, that they we are preserving a diverse range of voices.
Are you based in the cultural heritage sector? Get in touch – we'd love to hear about the challenges you and your organisation are facing? You can also join our Digital Cultural Catalyst and collaborate with your peers to tackle shared issues.
---
First published: 10 May 2022