ISODESIGN: Reinvention and Innovation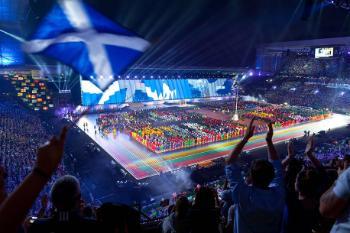 ISODESIGN is a Glasgow-based design media and software studio. They develop, design, and create large-scale, location-based installations. Though they began life producing graphics for television, over 80% of their projects are now for clients within the cultural heritage sector. Studio founding partner, Damien Smith, describes this work as a chance to "find new and inventive ways to tell stories about our heritage."
According to Damien, ISODESIGN's move into the cultural heritage sector was an unexpected one. He recalls that there was a hunger for digital experiences and installations within the museum sector around the millennium. Having gained valuable experience producing graphics for television, and then later working on digital projects such as the BBC iPlayer interface, the opportunity to work in cultural heritage was an exciting one.
This opportunity and reinvention of ISODESIGN, in turn, contributed to the creation of isoLABS. isoLABS run parallel to ISODESIGN, and represent a dedicated space for research and exploration. When ISODESIGN began producing digital installations for the cultural heritage sector, many of the tools required did not exist. isoLABS enables Damien and his colleagues to continue developing and innovating.
Matching audiences to stories
Damien and his colleagues enjoy the challenges of working in the cultural heritage sector. Working in television had become less experimental and formulaic, but he acknowledges that it was "a good training ground" for ISO's current work. The tight deadlines and need to translate complex information into something accessible and engaging has proved invaluable when creating installations for cultural heritage partners and clients. Indeed, considering different audiences forms a crucial element to each project. As Damien explains, ISODESIGN's tools are predominantly digital, but "audiences are as different as each project, and it's important to be mindful that not all are young digital natives". The task, therefore, is to match audiences with a story and the method of sharing it; finding the best tools to "present our rich cultural past and use collections of shared history in new and exciting ways".
Damien does not hesitate when he notes that funding is an enduring challenge within the cultural heritage sector, which has a significant impact upon progression. He suggests that, rather than focusing on short-term, small-scale projects, institutions should consider longer-term development. To commit to forward-thinking and change. Without change, he warns, there is a risk of only ever "playing at the edges" and missing out on other opportunities.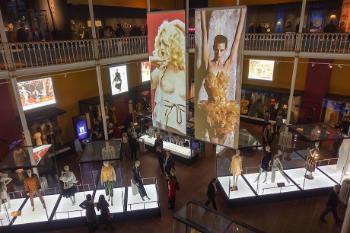 Learning from different approaches
For isoLABS, there is much to be gained from working with academics. They enjoy opportunities to collaborate with others, noting that doing so often enables them to reflect, and develop better ways of working.
Damien admires the rigour of academia, in particular the ethos around knowledge exchange and peer-review. Indeed, he and his colleagues are keen to understand and learn from academics' approaches to publishing and disseminating their research. Knowledge sharing in this manner is, in Damien's view, key to progression and future development.
Verena Henn, isoLABS Head of Research and Innovation, agrees. "We need people who bring new ideas and change things up," she says. However, isoLABS aren't only interested in collaborating with established academics. Verena stresses the importance of training new creatives and supporting the development of their talent too. To this end, isoLABS has run internship programmes for local students, providing them with valuable experience through briefs and projects similar to those they might encounter in industry. Design is about problem-solving, and new perspectives are a core component of this.
Are you based in the cultural heritage sector? Get in touch – we'd love to hear about the challenges you and your organisation are facing? You can also join our Digital Cultural Catalyst and collaborate with your peers to tackle shared issues.
---
First published: 2 May 2022