Hunterian: A conduit for engagement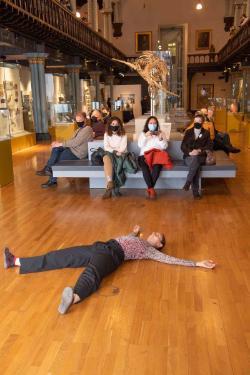 University museums represent a realm of possibility for Ms Ellen Fenton, Head of Audience Engagement at the University of Glasgow's Hunterian Museum. These museums occupy a unique place within their communities, representing a conduit for engagement by providing the expertise and a space in which collaborations between academic and non-academic partners can flourish to great effect.
University museums can provide significant value to their institutions through their work. Ms Fenton asserts that they not only engage in research with academic partners but can also contribute to their university's social agenda through assisting in the delivery of impact, as well as providing valuable support with audience engagement. Indeed, as Ms Fenton notes, university museums also have a role in supporting the student population, and therefore have valuable expertise when it comes to widening participation. The staff have extensive experience when it comes to working with a wide range of audiences, as well as across a number of disciplines. They can "speak the different languages" of their academic and non-academic partners, negotiating and bridging the gaps between innovation and research, and teaching and the wider community.
Rapid digital developments
Over the last decade, Ms Fenton has witnessed an astounding development in digital technology within the context of the museum sector. Staff have developed skills to underpin the rate of digital changes and discovered new ways in which to use digital tools to enhance their collections and audience engagement. Digitised items were no longer promotional tools for communications teams to share on social media; digital assets including databases could be developed into learning and teaching tools. Being able to communicate with audiences through digital means is becoming increasingly important, a factor emphasised by the Covid-19 pandemic.
The global pandemic emphasised the value of digitisation and having an online presence. Ms Fenton describes the challenges of the pandemic as revealing what the museum sector could achieve digitally. For the Hunterian, some collections had already been digitised, and they had content which had been prepared for social media. Though these digital resources had been created for different purposes, the Hunterian was able to repurpose them, meaning that the Hunterian could open its digital doors and engage. Being forced to work digitally enabled great transformation, as well as reach to international audiences.
A desire for digital
The Hunterian can now host in-person visits again, but the demand for digital access to its collections has not decreased. Indeed, Ms Fenton notes that the recent Mary Queen of Scots online course, delivered by Future Learn and The University of Glasgow, reinforced audiences' desire to be able to learn and access the Hunterian's collections online. As museums' digital capabilities increase, so too does their ability to engage wider audiences, sharing their collections and supporting the research of academics. Ms Fenton states that one of the many benefits of occupying a space on a university campus is the proximity to researchers, who continually push their practices and are keen to collaborate. University museums can learn from these collaborations, and continue to keep building upon their successes. Digital cultural heritage is evolving rapidly; establishing how to capture, preserve, and engage audiences with collections digitally is vital.
As a university museum, The Hunterian can bring value to conversations within the museum and heritage sector. Its staff are experienced in collaborating with academic and non-academic partners, and are continuing to build upon their digital skills and capabilities. They can push boundaries and create new connections as they engage audiences not just from around their campus, but across the globe. How can their expertise help you to transform your collection, or find new ways to connect with researchers?
Get in touch to explore how we can support your organisation, and collaborate with you.

---
First published: 21 February 2022