A collaboration like no other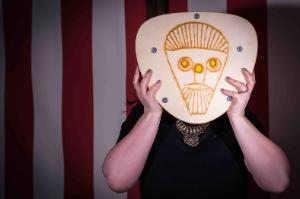 For Dr Gareth Beale, the multi-institutional and interdisciplinary DiNAR (Digital Narratives for Archaeology Research) project represented a collaboration like no other. Comprising researchers and practitioners based at the University of Glasgow, the Digital Creativity Labs at University of York, and York Museums Trust, DiNAR was formed of two major projects, 'Viking VR' and 'Within the Walls of York Gaol'. Both projects investigated the practices of design, creation and use of interactive and immersive media in museums and heritage organisations to great success.
'Viking VR' was a virtual reality installation for the York Museums Trust and British Museum 'Viking: Rediscover the Legend' exhibition. It was designed and created with by a consortium of researchers from partner institutions and practitioners from across several disciplines including archaeology, computer science and digital art. The installation used simple mobile-based virtual reality technology to create engaging and robust VR for gallery use and it represented the first experience of virtual reality for many museum visitors. Gareth notes that immersive technology enabled the team to create greater value for audiences and engage them in ways beyond more traditional media such as display boards or audio guides. The success of 'Viking VR' enabled Gareth and the team to develop their work further, using more experimental technology for 'Within the Walls of York Gaol', a series of installations within the cells of the 18th century prison at York Castle. These installations further explored the ways in which immersive experiences can enhance visits to museums and heritage sites, by blending interactive media with experiences of historic buildings using augmented reality.
Realising what is possible
In Gareth's view, it was teamwork and collaboration which enabled these projects to happen. Collaboration, particularly with partners outside of the university, allowed the team to produce impactful and engaging results which really worked within a museum setting. This included partners in the museum but also members of the local community (including musicians, teachers and students) who were invited to join the design team. Indeed, he describes the experience as enabling the team to fully realise what was possible when addressing their research questions, citing the opportunity to engage with the perspectives of colleagues from other fields and as a crucial element to DiNAR's success. He notes that building interdisciplinary communities allows partners from all sides to collaboratively design research which delivers across academic and non-academic settings. Collaboration on this level within digital cultural heritage allows for greater understanding of the challenges that organisations are facing, and teams are able to hone their focus, as well as capture wider audiences in their approaches. As Dr Beale asserts, interdisciplinary collaboration with industry partners such as this can lead to the most unexpected and exciting results.
Collaborate with us
Immersive technology and interactive media are helping to bring archaeology and history to life. Through this work we are capturing new audiences and enabling visitors to experience the stories behind heritage sites as never before. How could experimental interactive media help you to share your story to a wider audience, or strengthen existing connections? Would you like to find out more about how to engage different communities in your work?
The College of Arts is home to a thriving, collaborative community of researchers with expertise in a wide range of disciplines and skilled in interdisciplinary approaches. Get in touch to explore how their research can support your organisation, and how they can collaborate with you.



---
First published: 2 February 2022