Digital Evolution and the Afterlife of Mary Queen of Scots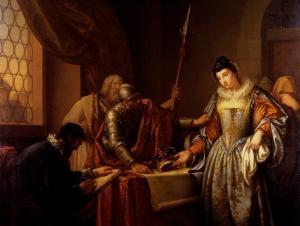 The Mary Queen of Scots Project, 'In the End is my Beginning': The Memorialisation and Cultural Afterlife of Mary Queen of Scots, 1567 – 2019, began life as plans for an exhibition centred around Gavin Hamilton's (1723 – 1798) painting, 'The Abdication of Mary, Queen of Scots'. The painting offers a romanticised view of Mary's abdication, and inspired Dr Steven Reid and The Hunterian's Anne Dulau-Beveridge to explore how Mary's reputation and legend have been presented throughout the ages. However, the University of Glasgow is home to one of the world's most significant collection of pieces and materials connected to Mary Queen of Scots, featuring pieces which include a medal commemorating Mary's marriage to Lord Darnley. The project soon expanded beyond the painting, encompassing not just objects within the collection, but other media such as film, literature, and music.
The project evolved as it moved online during the Covid-19 pandemic. Planned research workshops in which curators shared items from their collections were opened to wider audiences and held via Zoom. The project's blog also took on a new significance, offering the opportunity to collaborate with, and share the research of, other Mary scholars in a widely accessible format. Soon, Dr Reid and the project team found that they had blog posts from a broad range of academics, whose research encompassed all aspects of Mary's story and afterlife. Post topics include music, comics, and even drag. At the time of writing, the project website and blog has had over 40,000 views, and many return visitors.

Challenging Perceptions
An online course, The Life and After-Life of Mary, Queen of Scots, was developed with digital learning platform, FutureLearn. The course has proved popular and provided an additional means with which to engage the public; over three and a half thousand people enrolled for its first three-week run, who have enjoyed delving into Mary's life and legacy. Dr Reid notes that responses to the course and reviews left by participants have offered valuable insights. It is through reactions such as these that researchers learn where the public's interests lie, as well as discover how content might be used to challenge their perceptions.
A further output is that of an upcoming exhibition, which will showcase the work of the project, and feature material found in the Glasgow collections and additional items loaned from other collections in Scotland. There are plans for the exhibition to have an online presence and to include digital material.
Connection and Collaboration
For Dr Reid, digital cultural heritage opens up a new realm of possibilities for both researchers and collections. Not only does it provide a new way to display and share items which are perhaps usually held within closed repositories, but it renders them accessible to those who would not otherwise have access. Moreover, it also creates new opportunities for connection and collaboration.
How can our researchers help you to uncover the stories behind the pieces in your collections? How can they collaborate with you in bringing your collections to new audiences?
Do you want to get involved with this Catalyst? Get in touch by emailing Fraser Rowan.
---
First published: 31 January 2022