Engaging the Private, Public and 3rd Sector with EMOTIVE
Emotions play a fundamental role in how visitors experience heritage sites. However, there's little research into how emotionally engaging experiences are best designed and evaluated, and even less in the context of digital heritage. In this blog, we look at the need to create emotionally interactive experiences for visitors to heritage sites.
A team of University of Glasgow researchers led by Professor of Digital Cultural Heritage, Maria Economou, collaborated with industry and sector professionals to combine storytelling with digital interpretation technology. Their pioneering approach examined how digital experiences can stimulate visitors' curiosity, excitement, and empathy for the past at heritage sites, by 'placing' them in the relevant time and space. (Click on the video to hear more from Maria.)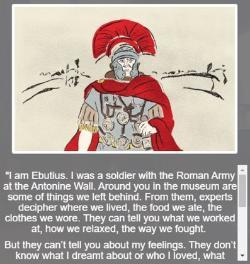 Working with EMOTIVE partners, the University of Glasgow team designed digital stories for the Hunterian's Antonine Wall display, based around two characters who left their mark on the Wall; Verecunda, a Caledonian slave girl, and Ebutius, a Roman Centurion. They also created a virtual version for online access.
Bringing history to life
Over a two-year period, the team carried out evaluations of a diverse group of over 300 users which included adult visitors, students, subject specialists, and schoolchildren. Evaluations were carried out at The Hunterian, as well as at external workshops, including the Antonine Wall community conference, and the EMOTIVE workshop in Athens. The storytelling evoked strong emotional responses, with users reporting that it made "history feel more tangible and…come alive" and as though the characters were "really talking to you in real life".
The new approaches developed in project EMOTIVE have since been adopted for UNESCO World Heritage Site management in Scotland and Germany, as well as by cultural organisations in Glasgow, Barcelona, Athens and Kurdistan.
Advancing Industry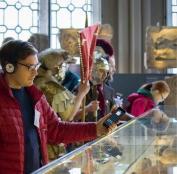 The impact of EMOTIVE is not isolated to heritage sites, and has also enabled software companies to further develop their products. DIGITEXT and Exus have been able to make improvements to the digital storytelling authoring platform that they are commercialising. DIGINEXT's Chief Technical Officer described the collaboration with the University of Glasgow team as having enabled them to "improve, re-design, and provide new features" in their Inscape product line, which will benefit a broad client base that ranges from transport and education, to security and defence.
Digital Cultural Heritage and You
With an impact that reaches beyond the Museum and Galleries sector, Digital Cultural Heritage has the potential to inspire and benefit a wide range of industries. How might Digital Cultural Heritage benefit your community or organisation?
Do you want to get involved with this Catalyst? Get in touch by emailing Fraser Rowan.
---
First published: 10 January 2022