Funding & Resources
Funding & Resources
Contact the College Internationalisation Team
Web link to International Partnership Development Fund
Web link to Arts Lab
University EU Team
Web link to Recruitment and International Office
To keep up to date with the most recent calls and deadlines check the Funding Opportunities pages and also the Arts Lab pages.
International Partnership Development Fund
The Royal Society of Edinburgh
The College of Arts Internationalisation Team
Recruitment and International Office
Employee and Organisational Development
---
Sources of Potential Funding
Arts and Humanities Research Council
The AHRC is the primary funder of research in Arts and Humanities in the UK. Although the majority of funding available via the AHRC is for UK activities, calls for international proposals are common place. A recent example being the UK/Netherlands Research Networking and Exchange call, deadline 13th Dec 2011.
---
British Academy
The British Academy is the UK's national body for the humanities and social sciences. As a funding body, in receipt of Government grant-in-aid, it supports excellent ideas, individuals and intellectual resources in the humanities and social sciences. The British Academy enable UK researchers to work with scholars and resources in other countries, sustain a British research presence in various parts of the world and help to attract overseas scholars to the UK. The Academy has launched its new International Partnership and Mobility Scheme and issued a call for applications to the first round.
---
EDULink
EDULINK represents a harmonised approach for the implementation of European Commission funded programmes in the Africa, Caribbean and Pacific Group of States with a view to improving the effectiveness, management, visibility and hence the impact of ACP-EU co-operation in the field of higher education. The overall objective of the EDULINK Programme is to foster capacity building and regional integration in the field of higher education through institutional networking, and to support a higher education system of quality, which is efficient and relevant to the needs of the labour market, and consistent with ACP socio-economic development priorities. The programme purpose is to strengthen the capacity of Higher Education Institutions (HEIs) in the Africa, Caribbean and Pacific group of states, at two levels: Institutional/administrative and Academic.
---
ESRC
ESRC is committed to raising awareness of UK social science internationally, and enabling UK social scientists to collaborate with the best researchers across the globe. ESRC has agreed to collaborate with the other Research Councils on the peer review and funding of research projects that extend beyond the social sciences. The new arrangements will enhance the opportunities for research that brings social sciences methods and approaches together with those of other research communities. Examples include research into energy, ageing, genomics, nanotechnology and the creative industries.
Here you will find links to all the available opportunities to research overseas, to welcome overseas collaborators to your institution, or get involved in international research networks.
Details of the arrangements are available on the RCUK website and in the ESRC's Research Funding Guide. Project proposals that extend beyond the mission of a single Research Council will continue to be submitted to the Council with the majority interest, but peer reviewers will be obtained from each of the relevant communities. The Research Councils will also co-fund those projects where a significant element of the costs reside within more than one Council's domain.
AHRC and ESRC have a joint subject statement (PDF, 65Kb) which gives more detail on the research areas at the interface of their interests.
---
European Funding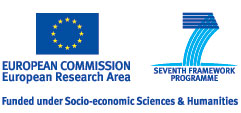 A support structure has been implemented to assist academics applying for EU funding. This consists of a University EU Team and the Business Development Managers / Research Officers in each of the Colleges. In collaboration they increase awareness of EU Funding opportunities across the University and guide academics through the often complex EU Funding application process.
The University has approximately 100 ongoing European Funded projects at any one time ranging from large collaborative projects with over 20 partners to individual fellowships/grants and between 30-40 new awards a year. With the yearly increase in budget for FP7 every year until 2013 we are looking to the total number of awards increasing.
---
Fulbright
The US-UK Fulbright Commission offers the only bi-national transatlantic academic awards programme between the US and the UK. They are part of a global programme conceived by Senator J. William Fulbright in the aftermath of World War II, to promote leadership, learning and empathy between nations through educational exchange.
Since its inception on 22 September 1948, the US-UK Fulbright Awards Programme has continuously expanded its offering of scholarships and grants for study in a wide variety of fields. Each year, they help around 50 UK and 50 US citizens to study, lecture, conduct research or focus on professional development at leading institutions in the US and UK respectively (for more information on current programmes visit the awards section of the Fulbright website). They also offer credit-bearing Fulbright Summer Institutes to give undergraduates a taste of academic life on the other side of the pond.
Nearly 300,000 women and men from all over the world have had their lives changed as Fulbright participants. Of these alumni, approximately 15,000 UK nationals have studied in the US and 12,000 US nationals in the UK on their educational and cultural exchange programmes.
---
Japan Foundation
The Japan Foundation was established in 1972 by the Japanese Ministry of Foreign Affairs, and became an Independent Administrative Institution in 2003. They promote international cultural exchange between Japan and the rest of the world, and provide financial support for a range of international cultural exchange programmes. Their activities are financed by annual subsidies from the Japanese government, capital gains accrued from the management of our original endowment fund, and contributions and donations from the private sector.
They work principally in the fields of Arts and Culture, in Japanese language education and in Japanese studies. The Foundation's activities are coordinated through their headquarters in Tokyo as well as through their offices, language centres and cultural centres in over 20 countries outside of Japan.
The Japan Foundation London is the Foundation's only office in the UK, and one of the first overseas offices to be established, opening in 1972, and gaining a language centre in 1997.
The Japan Foundation London coordinates all of the Foundation's programmes within the UK. They also offer grant support to small projects under our Local Project Support Programme, which is designed to help with the costs of UK-based projects that may not be eligible for funding under their annual programmes. In addition to these central activities, they organise lectures, workshops, seminars, courses, exhibitions and performances.
---
The Kress Foundation
The Kress Foundation supports the work of individuals and institutions engaged with the appreciation, interpretation, preservation, study and teaching of the history of European art and architecture from antiquity to the dawn of the modern era. Based in New York, USA, the foundation awards grants in defined program areas and offer professional development fellowships for historians of art and architecture, art conservators and historic preservation professionals, art museum curators and educators, and art librarians.
Through its Grant Programs, the Kress Foundation supports scholarly projects that promote the appreciation, interpretation, preservation, study and teaching of European art from antiquity to the early 19th century. These areas are also supported through our Fellowships. These competitive grants are awarded to institutions only.
Competitive fellowships supported by the Kress Foundation are awarded to art historians and art conservators in the final stages of their preparation for professional careers, as well as to art museum curators and educators. To learn more about a particular fellowship and how to apply, click here.
---
International Partnership Development Fund
The university has established the International Partnership Development Fund (IPDF) which is available to facilitate and support the University's international collaboration activities. Prior to developing an application please contact the College of Arts Internationalisation Team to discuss your concept.
---
Nuffield Foundation
The Nuffield Foundation is a charitable trust established in 1943 by William Morris, Lord Nuffield, the founder of Morris Motors. Lord Nuffield wanted to contribute to improvements in society, including the expansion of education and the alleviation of disadvantage. He called this the 'advancement of social well-being', and emphasised the importance of education, training and research in achieving that goal.
Today, they work to improve social well-being by funding research and innovation in education and social policy. They are also increasing the proliferation and quality of research and professional skills – both in science and social sciences – through their capacity building programmes. Underpinning all their work is a belief in the importance of independent and rigorous research evidence and its power to bring about change. The Nuffield Foundation work mainly in the UK, but also in Europe and eastern and southern Africa. Their income comes from the interest on our investments. They do not fundraise or receive funding from the Government. The Nuffield Foundation are financially and politically independent.
Some examples of Nuffield Foundation activity include: Developing teaching and learning resources; Influencing policy and practice in education, civil law and children and families; Building science and research capacity; and Improving science, health, education and social welfare in eastern and southern Africa by increasing professional and academic capacity in these areas.
---
The Royal Society
The Royal Society is the UK national academy of science. They work closely with a wide range of organisations to inform foreign policy with scientific advice, to facilitate international science cooperation, and to help build capacity in science academies around the world.
Many of the issues the Royal Society tackle are global in nature and require international collaboration with other science academies, research and policy organisations and charitable foundations.
Although the Royal Society is predominantly focussed upon Science, many of the funding opportunities are eligible to academics within the College of Arts, especially those working in for example, Medical Humanities or Policy.
---
The Royal Society of Edinburgh
The Royal Society of Edinburgh (RSE) is Scotland's National Academy. Its mission is to advance learning and useful knowledge and by doing so it supports the cultural, economic and social well-being of Scotland and its people.
Their Fellowship includes people from a wide range of disciplines - science & technology, arts, humanities, social science, business and public service. This breadth of expertise makes the RSE unique in the UK. The time which their Fellows spend in supporting and enabling the delivery of our activities is an exceptional free resource, the annual public value of which is in excess of £0.7million. With the support of partner bodies, and its own funds, the RSE provides funding which helps facilitate international links, collaboration and projects.
The RSE initiates and supports a wide range of activities which enhance Scotland's involvement in global collaboration. By forging effective partnerships with equivalent national academies overseas, amongst others, the RSE is helping to:
• Facilitate two-way international exchange program, enabling top Scottish-based researchers, in any field, to collaborate with the best of their counterparts anywhere in the world
• Promote the exchange of early-stage researchers, giving them the opportunity to experience research activities in other countries
• Raise awareness overseas of some of the best of the research and innovation being undertaken in Scotland
• Stimulate collaboration between centres of excellence through joint international events
• Provide a forum for discussion of international affairs, Scotland's place in the wider world, and international issues in science, the arts and letters, technology, industry and commerce.
---
Santander
Since 2007 Santander have helped many university students and staff achieve a variety of educational goals including studying at universities abroad, setting up their own businesses, establishing international academic links with other universities and so on. Santander's commitment to higher education is unwavering. Some of the beneficiaries have wanted to share their experiences with us.
See Dr Hilary Macartney's Case Study for information relating how she was successful in securing funding from Santander.
---
Sasakawa
The Sasakawa Foundation aims to develop good relations between the United Kingdom and Japan by advancing the education of the people of both nations in each other's culture, society and achievements.
It seeks to promote mutual understanding and cooperation through financial support for activities in the following fields: Arts & Culture; Humanities and Social Issues; Japanese Language; Medicine & Health; Science, Technology and Environment; Sport; and Youth and Education
Whilst encouraging applications in each of the above fields, the Foundation particularly wishes to support activities/projects in science & technology; medicine & health; environment & social issues; Japanese studies; and in the Japanese language.
The Foundation's awards are intended to provide "pump-priming" and not core funding of projects, but even small grants have enabled a wide range of projects to reach fruition, such as:
• Visits between the UK and Japan by academics, professionals, creative artists, teachers, young people, journalists and representatives of civic and non-governmental organisations
• Research and collaborative studies, seminars, workshops, lectures and publications in academic and specialist fields
• Teaching and development of Japanese language and cultural studies in schools, Further Education colleges and universities
• Exhibitions, performances and creative productions by artists, musicians, film-makers, writers and theatre groups
Prof Michael Moss has been the recipient of Sasakawa Foundation funding for trips to Japan and to bring Japanese academics to the University of Glasgow. Contact Prof Moss to learn more of his experiences.
---
Smithsonian
Founded in 1846, the Smithsonian is the world's largest museum and research complex, consisting of 19 museums and galleries, the National Zoological Park and nine research facilities.
The Smithsonian Institution offers a wealth of information, resources and training opportunities. Our investigations unfold at research centers, field sites and museums in the United States and around the globe. Whatever the discipline may be, we have experts who are eager to share knowledge and collaborate.
Prof Nick Pearce (History of Art) is a visiting Professor at the Smithsonian Institution as part of an existing MoU with the Smithsonian-George Mason Masters Programme in the History of the Decorative Arts. To learn more about the link with the Smithsonian contact Prof Pearce.
---
Wellcome Trust
The Wellcome Trust is a global charitable foundation dedicated to achieving extraordinary improvements in human and animal health. Our vision is to achieve extraordinary improvements in human and animal health. In pursuit of this, they support the brightest minds in biomedical research and the medical humanities.
They focus on three key areas of activity, reaching across five major research challenges. Their funding focuses on supporting outstanding researchers, accelerating the application of research and exploring medicine in historical and cultural contexts.
A significant and growing proportion of their funding is used to support research and research capacity strengthening in low- and middle-income countries. They fund research in public health (including communicable and chronic diseases) and tropical medicine (including clinical and biomedical) as set out in their International Strategy. Examples of research we have funded can be found on their Past Funding pages. You can also find an overview of their work in the Global Health Research booklet.
The Wellcome Trust fund a range of collaborative projects, including major international partnerships between higher-income countries, such as the International HapMap Project and the Structural Genomics Consortium.
---
Resources available to assist in developing international relationships
The College Internationalisation Team
The primary role of the the College Internationalisation Team is to ensure that you have the assistance you need to develop internationally. A member of the team would be delighted to meet with you to discuss your requirements and to establish a bespoke support package in line with the university's strategic priorities. Get in touch with the College Internationalisation Team to set up your meeting.
Arts Lab
As the College of Arts research institute, the purpose of Arts Lab is to support and encourage interdisciplinary research and collaboration within the College of Arts, and to promote productive research links with other Colleges. It also aims to promote collaboration beyond the University, particularly with the cultural sector in the City of Glasgow. Although this support is not specifically aimed at international activities, the Arts Lab website features a host of information and opportunities that overlaps directly into the international arena.
Research Professional
As the UK Research Councils are showing signs of lowering the value and volume of funding for research it is important to keep current on new funding opportunities. The University has subscribed to Research Professional, an electronic service that allows any registered user to set up a profile that will automatically generate emails providing details of calls from across the globe that might be of interest. To ensure you know of all potential funding streams in your field register with Research Professional. To find out more get in touch with the College Internationalisation Team. (If you have been an employee of the University for more than three years then you will probably have been automatically registered, you just need to activate your account to start reaping the rewards.)
Recruitment and International Office
Resources are available within the College and the Recruitment and International Office (RIO) to assist you to establish international links. RIO may be able to assist with formalising an existing relationship; developing programs with overseas Institutions; financing an overseas trip to establish potential links; or establishing potential international partners in a similar field of research. Prior to approaching RIO please contact the College of Arts Internationalisation Team as we may be able to assist directly.
Employee and Organisational Development
EOD provide a range of training than can assist in the development of partnerships, be they international or otherwise, and the project management skills that will be essential in order to establish and maintain realistic deliverables.