Importance of Modern Languages highlighted by major symposium in Glasgow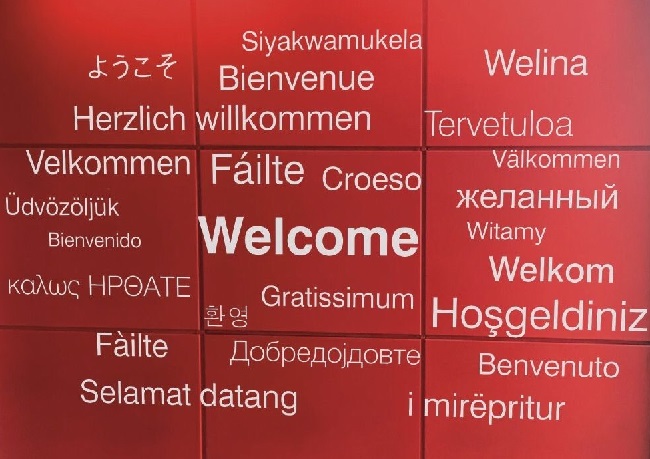 Hospitality and its relations to modern languages and associated disciplines will be highlighted as part of a major symposium being held for the first time in the UK.
The international symposium organised by the prestigious Modern Language Association of America (MLA) will be held in Glasgow from 2-4 June 2022, and the broad theme is 'Being Hospitable: Languages and Cultures Across Borders'.
The symposium was originally due to take place in 2021, but was deferred by a year in order to allow for an in-person event.
The University of Glasgow's School of Modern Languages & Cultures along with the Glasgow City Convention Bureau will be co-hosting this major conference being attended by over 350 international delegates.
Among the keynotes at the symposium will be Scottish poet, playwright, and novelist Jackie Kay; Professor Ankhi Mukherjee, Professor of English and world literatures at the University of Oxford, and University of Glasgow's Professor Alison Phipps, who is the UNESCO Chair in Refugee Integration through Language and the Arts.
Karin Bagnall, MLA Director of Conventions and Events, said: "We are delighted to be able finally to bring our International Symposium to Glasgow as a predominantly in person event. It promises to be a very exciting conference, in a city and university well-known for their generous hospitality."
Professor Michael Syrotinski, who is leading the co-ordination for the University of Glasgow in collaboration with the MLA organising committee, said: "We are looking forward to welcoming the MLA delegates to the University and city of Glasgow. The symposium theme of hospitality was chosen as a counter-gesture to the present widespread inhospitality of political discourse against the backdrop of an unprecedented migration and refugee crisis.
"It has now taken on increasing resonance and relevance, not only because of the global pandemic and its deep and long lasting impacts, including on the hospitality industry itself, but also with the more recent shocking and tragic events unfolding in Ukraine. The importance of reaffirming very fundamental commitments to hospitality seems more urgent now than ever."
---
For more information contact Aine Allardyce, Communications Manager, University of Glasgow on 07976 201938 or email aine.allardyce@glasgow.ac.uk or media@glasgow.ac.uk
The Modern Language Association
Founded in 1883, the Modern Language Association of America has worked for more than a century to strengthen the study and teaching of languages and literatures.
In addition to hosting an annual convention and sustaining one of the finest publishing programs in the humanities, the MLA is a leading advocate for the study and teaching of languages and literatures and serves as a clearing house for professional resources for teachers and scholars.
The MLA International Symposium
The 2022 MLA International Symposium is taking place from Thursday 2 June to Saturday 4 June. All sessions on Thursday, 2 June, and Friday, 3 June, will take place at the Scottish Events Campus (SEC). All sessions on Saturday, 4 June, will take place at the University of Glasgow.
The theme for this year's symposium is Being Hospitable: Languages and Cultures across Borders, chosen as a defiant counter-gesture to the current inhospitable, even hostile, nature of world politics.
The event's five plenaries will highlight speakers from diverse disciplinary backgrounds.
Visit the Symposium's web pages to learn more about the programme.
First published: 31 May 2022