New Kavya Prize announces shortlist
Published: 7 April 2022
The shortlist for a new Scottish literary prize celebrating published work by Scottish writers of colour has been announced today.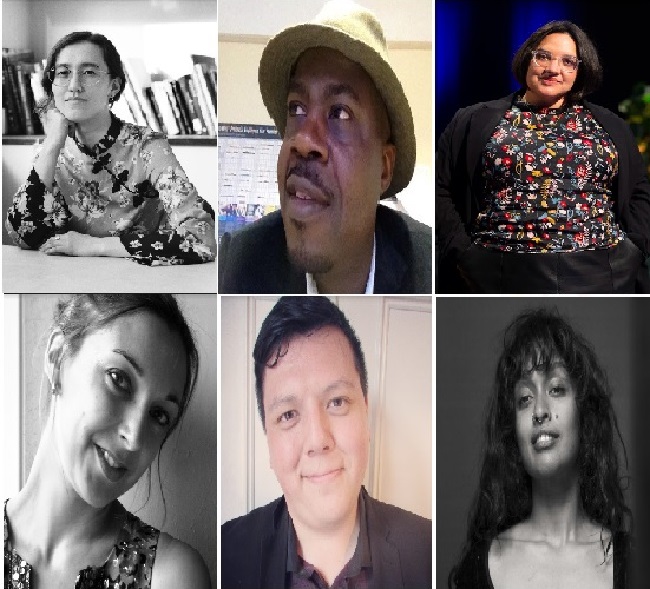 The shortlist for a new Scottish literary prize celebrating published work by Scottish writers of colour has been announced today.
The Kavya Prize, in association with the University of Glasgow and founded by Indian-born Scottish author Leela Soma, seeks to recognise, and encourage writers of colour who are Scottish by birth, residence or formation.
The inaugural prize for full-length published works of fiction, creative non-fiction, poetry or short story collections will be awarded at Aye Write on Saturday 21 May 2022 and is worth £1000.
Kavya is a popular and well recognised word in Sanskrit and refers to a literary style or a completed body of literature that was used in Indian courts of the Maharajahs who nurtured the cultural arts in India.
The shortlist for the Kavya Prize 2022 is:
Katie Goh, writer and journalist - The End: Surviving the World Through Imagined Disasters (404 Ink)
Hannah Lavery, poet and playwright - Lament for Sheku Bayoh (Salamander Street)
Uma Nada-Rajah, playwright - Toy Plastic Chicken (Salamander Street)
David Onamade, a writer of poetry and prose, who sadly passed away in 2021 - Sorrow, Tears and Blood (Arkbound Publishing)
Sean Wai Keung, writer and performance maker - Sikfan Glaschu (Verve Poetry Press)
Lorraine Wilson, writer - This is Our Undoing (Luna Press)
The Kavya Prize 2022 Judges are:
Leila Aboulela, a fiction writer of Sudanese origin who now lives in Scotland.
Professor Bashabi Fraser, CBE, Scottish-Indian poet, children's writer, critic and academic
Tawona Sithole, a Zimbabwean-born writer, poet, musician and performer who now lives in Scotland and is an Artist in Residence at the University of Glasgow.
Speaking about the calibre of the entries and the Kavya Prize 2022 shortlist, Judge Leila Aboulela said: "Those that have been shortlisted are a testament to the brilliant range of skills, boldness and talent on offer from Scotland's writers of colour."
---
Kavya Prize, Aye Write
The winner of the Kavya Prize will be announced at an awards event, co-hosted by AyeWrite, on Saturday 21 May 2022. Tickets are for sale on the Aye Write Kavya Prize pages.
Kavya Prize 2022 Shortlisted Author Bios and Info
The End: Surviving the World Through Imagined Disastersby Katie Goh (404 Ink)
Katie Goh(She/Her/They/Them) is a writer and journalistof ESEA heritage. She writes for a number of publications including i-D, VICE, the Guardian, the Independent, Huck and gal-dem. In 2021, Katie's essay 'oranges' published in Extra Teeth was shortlisted for the inaugural Anne Brown Prize, organised by BBC Scotland and Wigtown Book Festival. She is a member of the UK Film Critics Circle, co-hosts a monthly radio show on EHFM and has been previously shortlisted for PPA Scotland's Young Journalist of the Year award. Her first book of non-fiction, The End: Surviving the World Through Imagined Disasters, is published by 404 Ink. Katie lives in Edinburgh.
Lament for Sheku Bayohby Hannah Lavery (Salamander Street)
Hannah Lavery(She/Her) is a poet and playwright. Her pamphlet, Finding Seaglasswas published by Stewed Rhubarb and her poem,Scotland You're No Mine was selected as one Scotland's Best Poems for 2019.The Drift, her highly acclaimed autobiographical lyric play, toured Scotland as part of the National Theatre of Scotland's Season 2019 and in 2020, she was selected by Owen Sheers as one of his Ten Writers Asking Questions That Will Shape Our Future for the International Literature Showcase, a project from the National Writing Centre and the British Council. Her second lyric playLament for Sheku Bayoh premiered at Edinburgh International Festival in 2021. She was appointed Edinburgh Makar in November 2021 for a three-year term. She is also an associate artist with the National Theatre of Scotland and one of the winners of thePeggy Ramsay/Film4 Award 2022. In March of this year, her debut poetry collection Blood Salt Spring was published by Polygon. A selection of poems from her collection have been made into an audio-visual album with the filmmaker Beth Chalmers and musician Beldina Odenyo, in association with National Theatre of Scotland and Push the Boat Out Festival.
'Toy Plastic Chicken' by Uma Nada-Rajah, A Play and a Pint (Salamander Street)
Uma Nada-Rajah(She/Her) is a playwright based in Kirknewton, Scotlandand is of Sri Lankan Tamil heritage. She is one of the BBC's Scottish Voices 2020 and was most recently the Starter Female Political Comedy writer-in-residence at the National Theatre of Scotland. Uma is a graduate of École Philippe Gaulier and a previous participant of the Royal Court's Young Writers' Programme and the Traverse Theatre's Young Writers' Programme. In 2014 Uma won the New Playwrights Award from Playwrights' Studio Scotland.She works as a staff nurse with NHS Scotland. Sorrow,
Tears and Blood by David Onamade (ArkboundPublishing)
David Onamade(He/Him) (BA, MA, PhD)sadly passed away in 2021. He lived in Bristol for many years after spending time living in London and Glasgow. He worked in racial equality for more than 30 years, and was the youngest Chairman of Bristol Racial Equality Council. He was also Chairman of South West Racial Equality Council Network (comprising the then eleven RECs in the South West) and represented the South West at the national board of the British Federation for Racial Equality Councils. He was also Chairman of the Independent Advisory Board (IAG) of Avon & Somerset Constabulary –position he co-held with three different deputy chief constables; and Chairman of Ashley Ward Community Forum (a council ward in Bristol that includes St Pauls), aswell as Member of Bristol Democracy Commission (the commission that consulted on the political arrangement for Bristol); Member of the Board of Visitors (BOV, now IMB) to HMP Bristol –a Home Office appointment; and an elected member of the South West Regional Assembly. As relevant, he was a trainer in Equality and Diversity at Work with the Equality Foundation Ltd and Racial Equality Caseworker for many years, before becoming Director then the Chief Executive Officer of Somerset Racial Equality Council, between 2003 and 2013. David has a good knowledge of UK race laws. He was homeless and living on the streets when this poetry was written. In late 2020, with the support of Arkbound Foundation, he was given accommodation by Emmaus Bristol.
Sikfan Glaschuby Sean Wai Keung (Verve Poetry Press)
Sean Wai Keung(He/Him) is a mixed-race writer and performance maker based in Glasgow. His work often uses food as a starting point for explorations of identity, migration and communities. His pamphlet 'you are mistaken' won the Rialto Open Pamphlet Competition 2016 and he has also released short-length work 'how to cook' (2017) and 'be happy' (2018) with Speculative Books. His first full length poetry collection, 'sikfan glaschu', was published by Verve Poetry Press inApril 2021, and was described as "joyful, earnest and offering unexpected poignancies from everyday life" by The Scotsman. He has also been published in journals and anthologies including Street Cake zine, Datableed zine, Haunted Voices: Gothic Storytelling from Scotland (Haunt, 2019), and The Dizziness of Freedom (Bad Betty Press, 2018). He has facilitated workshops on food and recipe writing, as well as food-poetry, for The Poetry School, The Scottish BPOC Writers Network, Glasgow Zine Library and Renfrewshire Leisure's Refugee Week Series. He has also contributed articles on community, food and identity to The Skinny, Bella Caledonia and the Vittles Newsletter.
This is Our Undoing by Lorraine Wilson (Luna Press)
Lorraine Wilson(She/Her) is a mixed-race Burmese third-culture writer. She lives by the sea in Scotland, writing speculative fiction set in the wilderness and heavily influenced by folklore. She is fascinated by the way both mythology and our relationship with the natural world act as mirrors of ourselves and lenses for how we view others, and with a heritage best described as a product of the British Empire, she is drawn to themes of family, trauma, and belonging. After gaining a PhD in behavioural ecology from the University of St. Andrews in Scotland she spent several years as a conservation researcher in odd corners of the world before turning to writing.She has published short fiction and non-fiction in, amongst others,Strange Horizons, Forge Lit, The Mechanics' Institute ReviewandBoudicca Press. Her debut novel,This Is Our Undoingwas released in 2021, and is shortlisted for SCK Awards. A second novel,The Way The Light Bendsis coming out in August 2022.Lorraine is represented by Robbie Guillory at Underline Literary Agency.
About Creative Writing at the University of Glasgow
The University of Glasgow's Creative Writing postgraduate taught, and research-led writing courses are among the most challenging and popular in Britain. They have helped launch the career of a number of successful writers. Learn more here about Creative Writing.
About Leela Soma
Leela Soma is a Scottish-based writer who was born in India, and now lives in Glasgow. She writes novels, poetry and short stories which have been published in several anthologies and publications. Learn more here.
First published: 7 April 2022
Related Links