The Stay-At-Home! Literary Festival Returns
Issued: Tue, 06 Apr 2021 10:00:00 BST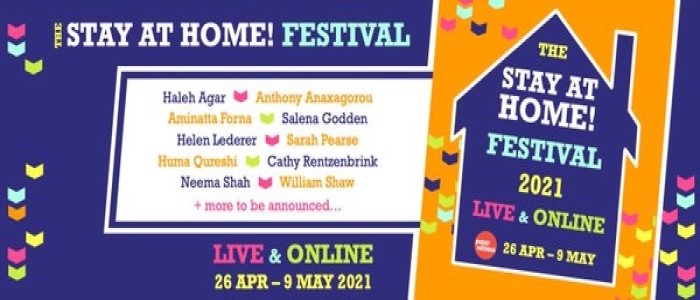 The UK's first major online literary festival for writers and book lovers returns on 26th April – 9th May with a packed programme of fantastic free activities. The line-up includes: Aminatta Forna, Helen Lederer, Anthony Anaxagorou, and Greg Buchanan. The festival is a celebration of writing, responding to calls to 'stay at home' with two weeks of free events and workshops to ensure readers and writers of all kinds can connect with their community and explore writing.
The Stay-at-Home! Literary Festival was founded by bestselling author, Dr Carolyn Jess-Cooke (who publishes as CJ Cooke), in partnership with creative writing incubator, Paper Nations, in March 2020. The festival was attended by over 15,000 people and was Highly Commended in The Bookseller's FutureBook Awards.
CJ Cooke, who is a senior lecturer at the University of Glasgow's School of Critical Studies, said: "The response to the first Stay-at-Home! Festival was phenomenal. The idea began as a tweet and in just one week a host of authors came forward to support the writing and reading communities during the pandemic. We're delighted to have received funding this year from the University of Glasgow's Knowledge Exchange Fund to expand our research activities. We will be working hard to exchange knowledge about issues of diversity, inclusivity and accessibility in live literature, and to create an even bigger celebration of books and writing.
"We've programmed a truly diverse range of workshops, panels, readings, and talks for writers and readers alike, broadcast direct to your living room and to a selection of libraries across the UK. Many people who attended the festival last year said they would never feel comfortable at a literary event, but online festivals had opened up a new world for them. We loved that the festival felt like a place they could enjoy writing without judgement. This year is no different. Whether you're a reader, writer, or publisher; a lover of poetry, nonfiction, or novels; we welcome you."
Professor Bambo Soyinka, founder of Paper Nations added: "We are proud to be the Lead Partner on this inspiring event. Paper Nations believes that everyone can and should be able to access writing either as a career or as a pleasurable activity. Our research has demonstrated that an important part of facilitating that is ensuring writers –no matter where they are or the challenges they face– can feel connected to the writing community. The Stay-at-Home! Festival champions this sense of connection."
---
The Stay-at-Home! Festival returns on Monday 26th April – Sunday 9th May 2021. More information will be released on their website: http://stayathomelitfest.co.uk/
Stay-at-Home Literary Festival
The Stay-at-Home! Literary festival celebrates the power of writing and reading in preventing loneliness and championing connectivity and community amidst social distancing. The annual festival invites writers and readers across the country to come together for workshops, panels, readings, and talks that are freely accessible to everyone.
Multi-award-winning author CJ Cooke founded the festival in response to the Covid-19 outbreak, and in partnership with creative writing incubator Paper Nations. CJ Cooke (full name Dr Carolyn Jess-Cooke) is a Senior Lecturer in Creative Writing at the University of Glasgow. The festival is a charitable and innovative online endeavour, part-funded by the University of Glasgow's Knowledge Exchange Fund.
Website - http://stayathomelitfest.co.uk/ | Twitter @stayathomefest
Paper Nations
Paper Nations is a creative writing incubator. We commission writers throughout the South West of England to create new work, we nurture local communities of support for writers, and we create multi-channel partnerships to showcase new writing internationally.
Paper Nations is housed in Bath Spa University's TRACE centre (The Research Centre for Transcultural Creativity and Education). Paper Nations works in partnership with Bath Spa University's Creative Writing Faculty and Institute for Education, Bath Festivals, the National Association of Writers in Education, StoryHive and a thriving community of local schools and arts organisations. Paper Nations is supported by Arts Council England, Bath Spa University and Investors in Writing.
Website papernations.org |Twitter @PaperNationsUK