Related Links
Honouring Scotland's WW1 Poets
Issued: Thu, 02 Aug 2018 12:00:00 BST
The search is on for the best quote from a Scottish First World War poet to feature on a national memorial.
The short list of six quotes includes one from a poem by University of Glasgow graduate Captain John Ebenezer Stewart (1888-1918).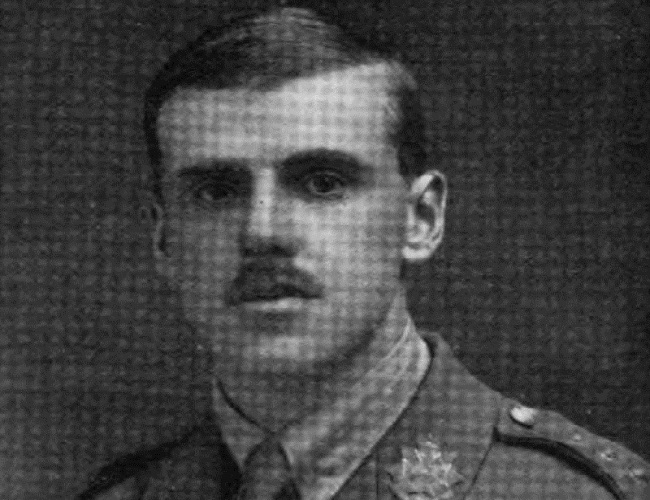 "Make our story shine
In the fierce light it craves"
J.E. Stewart's 'Revisiting the Somme'.


The quote that is picked by an online public poll will be inscribed on a monument remembering Scotland's Great War poets in Edinburgh.
The monument is a Celtic Cross, which incorporates a pen design, will be erected in Edinburgh's Makars' Court, where lines by Scotland's greatest writers are inscribed on paving slabs.
While many know the work of war poets such as Wilfred Owen and Siegfried Sassoon, Scotland's war poets are less well known and it is hoped that the poll will help raise awareness amongst Scots of their literary heritage. The quotes were chosen by Lizzie MacGregor, editor of Beneath Troubled Skies – Poems of Scotland at War, 1914-1918 (Polygon).
The poll was launched today (2 August 2018) by the Scottish Poetry Library and runs until Friday 17 August. The result will be announced via the Scottish Poetry Library's website shortly afterwards.
Over the next fortnight, Scots are being asked to read and select from the six quotes by poets who wrote about their experience of the First World War. The quotes are taken from poems written, as you'd expect, by soldiers, but there is also one by a woman, by a father who lost his son and by a Gael.
The poets whose words the public are asked to vote on are:
David Mackie (1891-1956)
Murchadh Moireach / Murdo Murray (1890-1964)
Neil Munro (1864-1930)
J.B. Salmond (1891-1956)
J.E. Stewart (1888-1918)
Mary Symon (1863-1938)
Stewart was a teacher in Coatbridge, and an officer in the Border Regiment during the First World War, with one book of poetry published in 1917. Despite an unprivileged childhood, he won a place at the University of Glasgow, from where he graduated with an MA in 1910. He took over command of the 4th Battalion South Staffordshire Regiment in April 1918, and was killed on 26 April at Kemmel Hill in the 4th Battle of Ypres. Read his full Glasgow story here.
The monument will be unveiled at a special ceremony in mid-November. The Celtic cross will be the first standing monument in Makar's Court. The cross will be sited to the left of entrance to the Writers Museum, a corner spot currently unoccupied. The Scottish Poetry Library is working in partnership on the project with the City of Edinburgh Council, Edinburgh Napier University, University of Aberdeen and Dignity UK Funerals, who gifted the memorial cross.
---