Debussy in 2018
Find out more
Debussy in 2018
Issued: Fri, 16 Feb 2018 14:00:00 GMT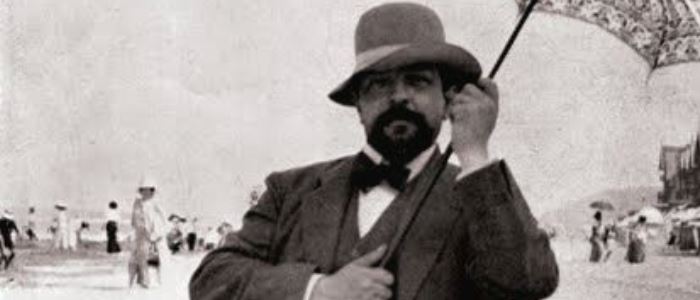 The University of Glasgow and the Royal Northern Conservatory of Music in Manchester will co-host a commorative event on the music of Claude Debussy, it was announced today.
Dr David J. Code, Reader in Music in the School of Culture & Creative Arts, and Professor Barbara Kelly, Head of Research at the Royal Northern Conservatory of Music in Manchester, said the event called 'Claude Debussy in 2018: A Centenary Celebration at the RNCM and the University of Glasgow' will take place between 19-23 March 2018.
An ambitious collaboration between one of England's major Conservatories and Scotland's leading research University in Music, this five-day celebration brings together leading specialists in Debussy and French Music from around the world for a series of symposia, creative workshops, and public concerts – some featuring original music composed for the occasion in Debussy's memory.
The celebration unfolds in two halves. First, in Manchester, the events will reflect in several paper sessions on a century of Debussy reception, under the broad umbrella 'Debussy Perspectives, 1918-2018'. Concerts will include renowned pianist Philippe Cassard, as well as musicians of the RNCM in a programme of arrangements of and responses to Debussy's music (e.g. by David Horne, John Adams, and Colin Matthews).
After travelling to Glasgow, the event adopts a more specific focus in keeping with the centenary of the First World War, for a series of events on the theme 'Debussy's Late Work and the Musical Worlds of Wartime Paris'. A lunchtime concert by James Willshire and Pippa Harrison features Debussy's wartime compositions for piano solo, duo, and duet.
Then, a twilight concert brings musicians of the RSNO to the University's Memorial Chapel to perform Debussy's three completed chamber Sonatas (1915-17) alongside original works written in memoriam by professional and postgraduate composers, selected from an international Call for Works. The celebration culminates with the distinguished Cramb Lecture, given this year by Professor Marianne Wheeldon of the University of Texas at Austin – and punctuated by a musical valediction from the University's Chapel Choir, singing Debussy and Ravel.
The event will highlight practical musical activities which will be included alongside paper sessions in both cities. A Manchester workshop on performing Debussy's mélodies will be led by eminent Debussy scholar Denis Herlin (Paris: the Sorbonne and Institut de Recherche Musicale) and French literature specialist Helen Abbott (University of Birmingham) alongside Lynne Dawson and David Jones of the RNCM's vocal department.
Composition staff both at the RNCM (Adam Gorb, Gary Carpenter) and University of Glasogw (Drew Hammond, Jane Stanley) will direct creative workshops for postgraduate and early-career composers who responded to our invitation to write music 'In memoriam Claude Debussy'.
Finally, in addition to the formal papers on a vast range of topics—from sources through performances to recordings, via all manner of cultural-historical concerns—there will be two round tables that will bring together scholars and composers for informal discussion of current issues in Debussy reception and research.
---