The Communities and Margins of Early Modern Scotland Conference
The Communities and Margins of Early Modern Scotland Conference
Issued: Mon, 06 Nov 2017 10:00:00 GMT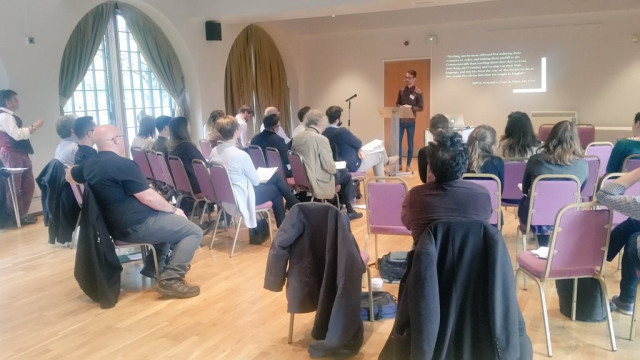 'The Communities and Margins of Early Modern Scotland' was organised by a group of PhD students and early career researchers based in the University of Glasgow, the University of Edinburgh, and the University of Strathclyde, writes conference organiser Rebecca Mason (Conference Co-Organiser)
Held in St. Mungo's Museum of Religious Life and Art, it was hosted within the commercial, religious and legal hub of early modern Glasgow.
The conference was kindly funded by the Scottish Graduate School for Arts and Humanities, the Royal Historical Society, Bòrd na Gàidhlig, and the University of Glasgow. The conference aimed to solidify a community of scholars interested in exploring prevalent themes on established and marginal communities in early modern Scotland, with interests ranging from godly discipline and public relations in the kirk sessions, to treachery and piracy on Scotland's peripheries.‌
The conference was purposefully highly interdisciplinary, incorporating literary material, history, theology, music, law, and material culture. It was important to the conference organisers to include presentations and performances that demonstrated the wide range of research exploring early modern Scotland within a variety of disciplines within and outwith the university community.
Andrew Bull from the Music Department in the School of Culture & Creative Arts delighted the audience by performing a variety of James Oswald's Jacobite tunes on his fiddle, while Dr Jamie Reid-Baxter and Dr. Aonghas MacCoinnich respectively explored poetical and kinship communities in the Scots and Gaelic tongue.
With special thanks to Dr. Anthony Lewis from Glasgow Life, we provided a lunchtime tour of the Provand's Lordship, the oldest house in Glasgow. This allowed our speakers and delegates to explore the physical remains of premodern Glasgow while also providing an additional space to contemplate and rethink our understanding of community in early modern Scotland. If you are interested in reading about the research presented at the conference, please do visit our website.
---