Glasgow Glam Rockers set for the Silver Screen
Glasgow Glam Rockers set for the Silver Screen
Issued: Thu, 15 Feb 2018 20:12:00 GMT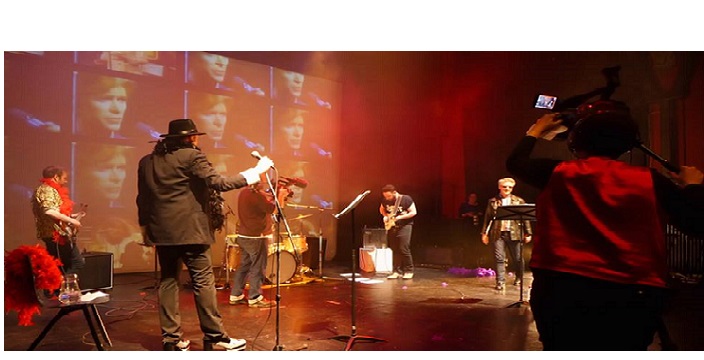 Glasgow Glam Rock Dialogues, a performance project established by Dr David Archibald (Film and TV) and Professor Carl Lavery (Theatre) of the School of Culture and Creative Arts in 2016, has secured funding from the University's Knowledge Exchange fund to make a short film.

There have been six Dialogues thus far, covering a range of political and aesthetic topics. Designed as 'Machines for Thinking', the GGRD reject the presentation of solutions to problems rather they offer ideas that have to be worked through by audiences.
In their first venture into film, the aim is to radically reconfigure the status of Guy Debord and the Situationist International at a time when the movement is increasingly under the spotlight as a result of the 50th anniversary of 1968 celebrations.
A pilot of the project was presented at La Nuit des Idées festival 1968 at Paris X, Nanterre, in January and the film, provisionally titled, Glasgow Glam Rock Dialogues: 7 – Debord, is scheduled to have its World Premiere in Centre Pompidou in November.
Keep up with Glasgow's favourite Glam Rockers via social media - see find out more section.



---
Find out more