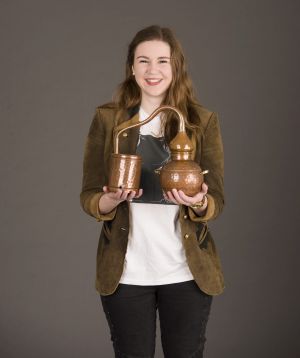 Connect with Helen:
Helen Stewart
The Arts Grad who's distilling gin and inspiration
Degree: English Language and English Literature (2017)
UofG Arts Grad Helen studied English Literature and Language in Glasgow, all the while brewing ideas for diversifying her family farm back home in Pitlochry. Today, she is both forager and founder at Badvo Distillery - successfully launching a unique Scottish Gin range and distilling not only great products, but the true essence of entrepreneurship along the way too!
Whilst studying, Helen had grew particularly interested in the art of Distilling. Having worked at a distillery at 18, Helen found the whole process fascinating. Helen combined her time studying and developing an entrepreneurial plan to diversify her family farm back in Pitlochry. Today, Helen is the founder of at Badvo Distillery, where she has successfully launched 1451 The University of Glasgow's first official branded Gin.
This special episode of Sound Tracks was recorded live at Drygate Distillery, in front of an audience of 100 students and alumni.
While still focusing on her studies, Helen was incredibly grateful for her invaluable support from her lecturers and Student Enterprise Hub on her entrepreneurial journey to set up and open a distillery. She spent two years applying for grants, designing her gin and converting her disused parts of her family farm.
After overcoming challenges of sexism and ageism from within the drinks industry, Helen is proud to have built a reputable name within the Scottish Gin industry. Furthermore, her new 1451 University of Glasgow gin has been distilled with 100% hand foraged botanicals from the Perthshire hill farm which has been in her family since 1959.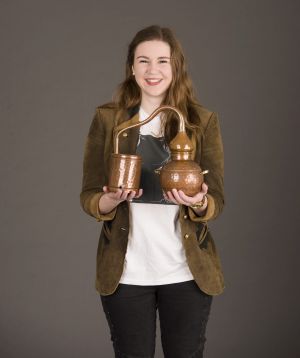 Connect with Helen: