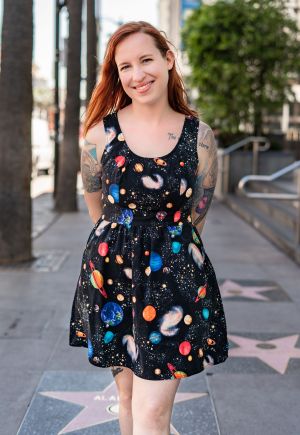 Connect with Erin:
Request to be mentored by Dr Erin on the Network
Follow Erin on Twitter
Follow Erin's Instagram
Check out Erin's website
Subscribe to Erin's YouTube series
Erin spoke of how important volunteering is, check out volunteering opportunities on The Network
Find out more about Gravitational Waves Research at UofG
Find out more about Anna's research with robots
Read about the YWCA 30 under 30 in Scotland list for 2019 (including Anna!)
Erin Macdonald
The tattooed Scottish-American astrophysicist who brings the science to Hollywood's Sci-Fi
Degree: PhD Physics and Astronomy (2012)
In this episode of Sound Tracks you'll hear from Dr Erin Macdonald the self-confessed 'tattooed Scottish-American N7 Slytherin Rebel from Starfleet'. Not sure what to make of that? Then take a listen!
Dr Erin is the awesome host of YouTube series Dr Erin Explains the Universe, where she explores space science found in our favourite sci-fi TV shows, movies, books, and video games.
She is a science fiction consultant to the entertainment industry where her specialty focuses on the use of general relativity in sci-fi through faster-than-light travel, artificial gravity, alternate universes and more.
Erin tells us about how she fulfilled her life goal…. of becoming a warp drive expert! If you're not sure what that means… nor did Rosie.
Plus! Erin shares how comedy improv classes helped her to gain confidence, her tips for improving your communication skills and the reality of 'faking it until you make it' in Hollywood.
What's your Soundtrack? UofG PhD candidate Anna Henschel picks 3 songs along the theme of science and also tells us about her research exploring human interaction with robots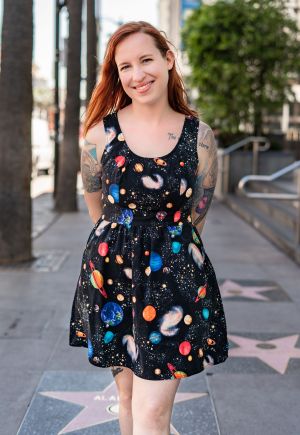 Connect with Erin:
Request to be mentored by Dr Erin on the Network
Follow Erin on Twitter
Follow Erin's Instagram
Check out Erin's website
Subscribe to Erin's YouTube series
Erin spoke of how important volunteering is, check out volunteering opportunities on The Network
Find out more about Gravitational Waves Research at UofG
Find out more about Anna's research with robots
Read about the YWCA 30 under 30 in Scotland list for 2019 (including Anna!)