History of Art and Art-world Practice
Related links
Other programmes in the subject of History of Art: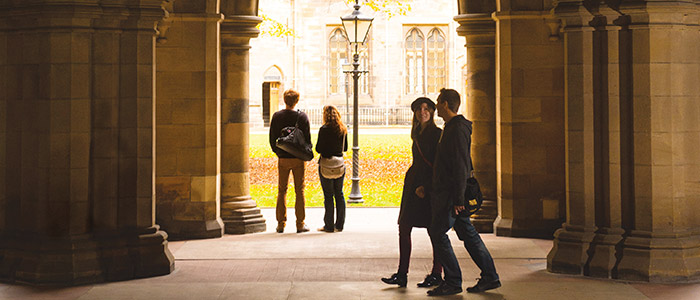 This exciting and innovative programme is unique in its format and in the range of skills and knowledge that are taught.
The first two years are spent in London studying at Christie's Education and the final two years are spent in Glasgow.
Year 1
Arts of Europe: Antiquity, Middle Ages, Renaissance
The core lecture series in this year is split into three parts. The first part introduces you to the art and culture of the ancient world including ancient Iraq, Persia and Egypt, and explores the depiction of the human form in Greek, Hellenistic and Roman art, as well as art, politics and power in Late Antiquity, and the early Byzantine and Carolingian worlds. The second part investigates the art of the high Middle Ages, exploring medieval stained glass, panel painting and illuminated manuscripts, as well as ivory, enamels, and textiles from the treasuries of Europe. The third part introduces the birth of Italian painting from Duccio and Giotto through Masaccio and Piero della Francesca to Raphael and the reinvention of sculpture and architecture in early Renaissance Europe.
Year 2
Art, Style and Design: Renaissance to Modernism
You will focus on the art, style and design of Western Europe from the Renaissance until the 1920s. The course approaches the visual world as an integrated whole, covering the fine arts of painting and sculpture while also addressing the materials, techniques, styles and functions of furniture, silver, ceramics, textiles and fashion.
You will begin by exploring the Renaissance, Baroque, Rococo and Neoclassical styles, placing them in their social and political context. You will go on to study the impact of the Industrial Revolution on the production of consumer goods and the Arts and Crafts revival of traditional artisanal techniques. The origins of modern art in Impressionism, Post-impressionism and Art Nouveau, culminating in the avant-garde movements of Cubism, Futurism and Expressionism and Surrealism, are also investigated.
Lectures, seminars and museum visits are supplemented by handling sessions in museum stores, galleries and at Christie's auction house. Written assignments build on the experience of essay writing, compare and contrast exercises, cataloguing training and report writing that you will have acquired in first year.
Years 3 and 4
Third and fourth years are spent at the University of Glasgow. You will be allowed to choose from the full range of options available, from Antiquity, the Middle Ages and Renaissance, to Romanticism, Realism and Modernism. In addition the University has specialists in Chinese art and decorative art and design of the 19th and 20th centuries.
Academic entry requirements

for entry in 2015
MA
For full details of entry requirements, please contact Christie's Education, admissions@christies.com.
Interview policy
Applicants must attend an interview with the relevant admissions tutor who will assess their suitability for the programme.
Interviews can be arranged in London throughout the year, in New York between February and May, and in Hong Kong at the end of May. Interviews normally last about 40 minutes and you will be asked to discuss a selection of images as well as your particular interests. You will be formally notified of the outcome of the interview within ten days.
For applicants whose first language is not English, the University sets a minimum English Language proficiency level.
For full details of entry requirements, please contact Christie's Education, admissions@christies.com.
The degree is designed to give you a complete rounded education so that you will be ready for the job market or further study.
When applying you will need to know the UCAS code for the subject or subject-combination that you wish to apply to:
Tuition fees
How and when you pay tuition fees depends on where you're from: see Tuition fees for details. If you're from outside the EU, please see International students for more information.
Scholarships
We offer a wide range of scholarships to our undergraduates, including both home/EU and international students. The University is committed to supporting students and rewarding academic excellence. That's why we've invested more than £1m in additional scholarship funding over the last year.
For a full list of scholarships including eligibility criteria and how to apply, please see:
UCAS closing dates for entry in 2015
The UCAS process requires applications to Medicine, Vet Medicine and Dentistry to be submitted by 15 October each year, and applications to all other degree programmes by 15 January each year. The University of Glasgow cannot accept any applications after these UCAS deadlines, nor can it accept changes to applications after these dates. It is the applicants responsibility to ensure the accuracy of their application prior to submission, and requests from applicants to correct erroneous application content, change degree programme or change college of entry, will not be allowed after these UCAS deadlines. This policy is in place to ensure fairness and consistency to all applicants, and no exceptions will be made.
15 October 2014: if including Dentistry, Medicine, Veterinary Medicine or applying to Oxford or Cambridge
15 January 2015: all other UK/EU applicants
30 June 2015: international (non-EU) students.
Apply at www.ucas.com or through your school or college.
Contact UCAS on 0871 468 0468.
UCAS tariff points
The University does not frame its offers in terms of UCAS tariff points.
How soon will I receive a decision?
We will usually respond before the end of March 2015.

If your qualifications meet our requirements and we believe you could benefit from study at Glasgow, you will receive an unconditional offer.
If you haven't yet gained the necessary passes for entry to your chosen subject(s), we may look at the qualifications you are taking when you apply and make you a conditional offer.
Will I be interviewed?
An interview will be part of the selection process for: Community Development, Dentistry, History of Art & Art-world Practice, Medicine, Music, Nursing, Teaching, and Veterinary Medicine & Surgery. You may also be interviewed if you're applying for entry into Year 2 in any subject.
Is deferred entry available?
For Dentistry, Nursing and Veterinary Medicine programmes we are unable to consider applications for deferred entry. In other cases deferring may be possible but it's not granted automatically.
University Transfers
Transfers from another University to the University of Glasgow will only be considered under the following circumstances:
The applicant has a genuine personal circumstance (illness, bereavement or other family situation) which requires the student to move back to their home town to be closer to family; AND
The applicant would have met the University of Glasgow entrance requirements at the time he/she went to the other institution. In exceptional circumstances, a student may be admitted if he/she was marginally below the University of Glasgow entrance requirements, and they have performed above average at the other institution.
Widening participation
We want to help talented applicants from all backgrounds to study at Glasgow. See our range of widening access pre-entry programmes at Widening Participation.
British Sign Language
UCAS has launched seven new videos using British Sign Language, including details on how to apply and a Parents' Guide.
Apply at www.ucas.com or through your school or college.
Contact UCAS on 0871 468 0468.