Talented athlete support
We support our talented athletes manage the demands of competing in sport at the highest level whilst undertaking their University of Glasgow degree. Many talented athletes benefit from the range of services offered and have found our University the ideal institution to allow them to develop and fulfill their sporting potential whilst studying for an academic degree.
University of Glasgow athletes include up-and-coming athletes as well as those competing at the pinnacle of international sport competition, in events such as the Olympic and Commonwealth Games.
A number of services are available for talented athletes at the University, including free access to first class University sport facilities, specialist sport mentor support, strength and conditioning programming and coaching, nutrition advice, and access to other support services.
Contact
Euan Smith
Head of Service Development (Assistant Director)
Tel: +44 (0)141 330 6838
Email: euan.smith@glasgow.ac.uk
Sport bursary
In addition to the support services available to talented athletes, our Sport bursary programme provides further benefits including funding support for competition, training, and lifestyle expenses and free access to Glasgow City Council sport facilities.
Colin Montgomerie Golf Scholarship
This prestigious award is given to the most talented student golfer at the University and is deserved recognition for the time athletes dedicate to the continued development of their game. In addition to being awarded the Claret Jug, the winner will be awarded £400 towards golf related expenses.
The Glasgow University Golf Club will select this golfer during Semester 2 each year.
Winning Students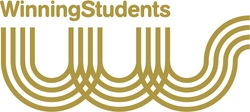 Winning Students is Scotland's national sports scholarship programme, supporting student athletes with annual scholarships up to £5,500 to help them achieve their sporting and academic goals.
Find out more at www.winningstudents-scotland.ac.uk
Student Sport City
Glasgow Student Sport City is a partnership between the 3 Universities - Glasgow, Caledonian and Strathclyde and the 10 Colleges to support the best athletes in the country with a network of excellent sport training facilities, throughout Glasgow, and provide a wide range of educational programmes through the network of participating Universities and Colleges. The possibilities for student athletes are limitless.
Full details are found on the Glasgow Student Sport City website: www.glasgowstudentsportcity.co.uk