Quick Links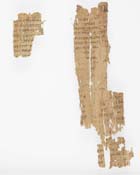 MS Gen 1026/13 (Oxyrhynchus papyrus 1228). A late 3rd Century fragment of St. John's Gospel.
Papyrus Fragments
This collection consists of 23 separate papyrus fragments. Their content includes administrative documents (such as tax receipts and records of property transactions), personal letters, a portion of Saint John's Gospel, and a collection of songs for the flute. Deriving mainly from the third and fourth centuries A.D., the earliest is dated 14 June, A.D. 56 (MS Gen 1026/6).
These documents are a small sample of the thousands of papyrus fragments that were dug up from the rubbish heaps of the ancient city of Oxyrhynchus in Egypt (with the exception of one, MS Gen 1026/23, which was excavated from the town of Fayûm) at the beginning of the 20th Century, in a series of excavations organised by the Egypt Exploration Fund. While most of the fragments were housed in the Sackler Library of Oxford University, in the early years of the project the Egypt Exploration Fund also presented many of the documents to other institutions, including some University libraries. The University of Glasgow acquired its collection in three separate tranches from the Egypt Exploration Fund: 9 fragments donated in 1901, 5 fragments donated from 1904-1915, and a final 9 fragments donated between 1915 and 1924.
For details of the worldwide distribution of the fragments see the Oxford Oxyrhynchus online web pages.
How to find material from the Papyrus Fragments collection