Latest Additions

Latest News

Other Services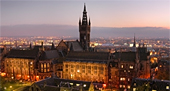 Enlighten is the University of Glasgow's institutional repository service for published research material including:
peer-reviewed journal articles
published conference papers
books and book chapters
There are many benefits to depositing your research in Enlighten find out more ...
Follow Us
Quick Search: Authors, Title, Keywords and Fulltext
Type the keyword(s) for published papers you want to find.
For example:
jaagsiekte sheep retrovirus
ancient lothian
At the meeting of Senate on 5th June 2008 a new University Publications Policy was approved. The key aim of the new policy is to maximise the impact of the University's research by making publications as widely and freely available as possible through the University's institutional repository Enlighten. The policy will apply from the beginning of the 2008/2009 academic session.
Enlighten also provides University of Glasgow authors with advice on how to deposit papers in the service and information on related issues such as open access publishing and complying with funding body open access policies.