Accessibility & Assistive Technology
Mobility scooters are available for loan use on a daily basis around the campus. On request we will deliver the scooter to a location of your chosing. You will be required to sign a one-off contract for the scooter when you first borrow it (Mobility Scooter Contract (doc)‌).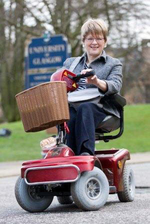 For further information contact:
Sylvia Morgan
Office Manager
Disability Service
Email: sylvia.morgan@glasgow.ac.uk
Tel: +44 (0) 141 330 2260
For physical access enquiries contact the Estates and Buildings department: physicalaccessissues@gla.ac.uk.
The University also has a Campus Infrastructure Liaison Group (CILG) which meets on a termly basis and disabled students are represented on this committee. Specific information about the accessibility of individual buildings and facilities on this campus can be obtained from the Disabled Go website.
Disability parking on campus.
The University Campus is restricted in its provision for parking for staff and students. Parking Permits are required by all staff and students to park on the University campus.
There is a charge for Parking Permits. However those disabled individuals who are holders of a Blue Disability Badge are exempt from the charge. They are required to make application for a University Parking Permit and provide proof of their 'Blue Badge' status to Central Services who are located at the Main Gate of the University, on University Avenue.
This permit will allow holders to park on University property and to occupy a bay designated for Disabled Users. These bays are located at various buildings around the University. Students should note that it is not possible to book these spaces and they do not always remain free at places and times that they require throughout the day.
See the GU Central Services website for more information on the charge for a parking permit and regulations. A programme for improving parking provision throughout the campus is ongoing.
The SRC Minibus.
The Student Representative Council organises a minibus service to and from campus and various halls of residence which are located at a distance from campus. These buses are able to be used by students with disablities, and are now adapted for wheelchair users. There is a cost to this service.
Taxi service.
This service is not generally provided, but for those students who require it, arrangements can be made on their behalf by a Disability Adviser, provided the cost can be met by the student. The cost can be high. For those students in receipt of DSA, the cost can be reclaimed. This can apply to transport between home and University. Each application to the funding council will be considered on its own merit.
The Disability Service arranges evaluation and training sessions for students who have assistive technology requirements.
Assistive software packages can be provided and most of these are available on the University network. Advice on training in assistive software or on IT quotes for DSA claims is also part of the service we offer. A loan pool of equipment is available for those who require such a service.
The Assistive Technology Centre.
Room 529 on Level 5 of the University of Glasgow Library allows enhanced access to the web, email and other networked resources using assistive software, scanners, large monitors, specialist keyboards and other peripherals.
Opening times are during University Library hours. This is a student cluster and priority access is given to students registered with the service. Students who require to use software only available in the Centre will be given card access to the door and logon access to the computers in the room.
Common Student Computing Environment CSCE:
Most of the University of Glasgow Computer Clusters have assistive technology software installed. The assistive programs available are:
MindGenius - a mindmapping package which can help with the organization and structure of written assessments and also mnemonic strategies for revision purposes;
Texthelp (Read & Write Gold) - has a word prediction facility, a phonetic spellchecker, and a speech feedback facility useful for proof-reading written work (a useful package for dyslexic students);
Zoomtext 9 - a text enlargement package for visually impaired students.
There are other assistive software packeages available for use in the Assistive Technology Centre for Students with particular needs who are registered with the Disability Service.
Training in assistive technology software is given by the IT Education Unit and by an external IT trainer. You can book a training session throught the Disability Service by calling + 44 (0) 141 330 5497.
Audio Loops.
There is a small pool of loan laptops, peripherals and recording equipment to students registered with the service available on a first come first served basis and according to need. Audio induction loops are available in most central teaching rooms. The Disability Service also has a portable loop for loan.
For more information on all the full range of facilities available please phone +44 (0) 141 330 5497, email disability.glasgow.ac.uk or call in person at the Disability Service offices at 65 Southpark Avenue.