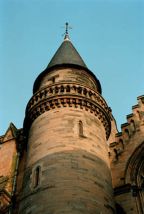 The General Council and the General Council Business Committee
The General Council
The General Council is a statutory body comprising all the graduates of the University of Glasgow. It plays a role in the governance of the University. All University graduates are automatically members of the General Council.
Meetings of the General Council
Meetings are held at half-yearly intervals (January and June). All General Council members are entitled to attend. Notifications of meetings are published in Avenue (the alumni magazine) that members receive twice a year. Avenue is also published at: www.gla.ac.uk/services/developmentandalumnioffice/publications/
The next Meeting of the General Council will be held on Saturday 19th January 2013 at 10.30 for 11am in the University. The venue will be published later in the year.
The General Council elects five Assessors to the University Court (the governing body of the University) and works through the General Council Business Committee.
General Council Business Committee
A Standing Committee called the Business Committee acts on behalf of the General Council in matters within its powers, including those delegated by the University Court or Senate. The Business Committee makes representations to the Court on Ordinances and Resolution. The Convenor of the Business Committee reports to the General Council at statutory Half-Yearly General Council Meetings.
The Business Committee comprises the Principal, the five Assessors, twenty elected Members and the Clerk of the General Council. The period of office for elected members is four years. The commitment is 7 meetings a year.
Meetings of the General Council Business Committee in 2012-2013
Unless otherwise indicated, all meetings are held at 5.15pm for 5.30pm in the Melville Room
Tuesday 23rd Oct 2012; Wednesday 9th Jan 2013; Thursday 7th Mar 2013; Tuesday 23rd April 2013; Wednesday 3rd July 2013
For more information contact Mr Robert Marshall, Clerk, by email on clerkgc@admin.gla.ac.uk
General Council Business Committee Members (as at August 2012)
A list of current Members is given below.
Current Members
Mr George Tait (Convenor)
Prof Arthur Allison
Mr Andrew Buchanan
Mr James Ewing
Dr Gordon Hamilton
Mr Frederick Hay
Prof Eve Johnstone
Dr Robert Logan
Dr Ann Lowe
Mr Duncan Marley
Mr John Marsh
Ms Helen McAvoy
Mr Lewis Niven
Mr Graham Paterson
Mrs Ruth Sharp (Co-optee)
Dr Wilson Totten (Co-optee)
Court Assessors
Mr David Anderson (Court Assessor)
Mr Alan Macfarlane (Court Assessor)
Mr Brian McBride (Court Assessor)
Mr David Ross (Court Assessor)
Mr Kevin Sweeney (Court Assessor)
Ex-officio
Prof Anton Muscatelli (Principal)
Mr Robert Marshall (Clerk)