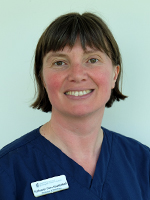 Small Animal Hospital, Glasgow G61 1QH
Professor Clare Knottenbelt
Professor of Small Animal Medicine and Oncology (Small Animal Clinical Sciences)
Associate Academic (Institute of Biodiversity Animal Health and Comparative Medicine)
My major areas of interest are the prevention and treatment of cancer in domestic pets and the use of evidence based medicine to support management decisions. I have an interest in the role of non-steroidal anti-inflammatory drugs (COX inhibitors) in the management of cancer both as palliative care and as part of treatment protocols. In 1999 we demonstrated that the COX inhibitor piroxicam could be used in the management of rectal polyps (JSAP 2000; 41 393-397) which have been shown to express COX 2 (JSAP 2006; 47, 196-200), and have subsequently shown that non-steroidals inhibit the growth of canine cancer cell lines (JSAP 2006; 47, 14-20).
My recent research study involves assessment of hair nicotine in dogs exposed to second hand smoke. The link between disease and exposure to tobacco smoke has proved difficult to elucidate and further work is underway to establish better method of
Grants and Awards listed are those received whilst working with the University of Glasgow.
Nicotine hair concentration in cats exposed to environmental tobacco smoke or with gastronintestinal pathology on abdominal ultrasound examination
Petsavers
2015 - 2016

Nicotine concentrations in the hair of dogs and cats exposed to Environmental Tobacco Smoke
Petsavers
2010 - 2011

Quasispecies evolution in the progression of FIV infection
Wellcome Trust
2009 - 2015

Study into the synergistic effects of non-steroidal anti-inflammatory drugs on telomerase activity in canine transitional cell carcinoma
The Pet Plan Charitable Trust
2007 - 2007

Rehoming Centre
The Dogs Trust
2006 - 2012

Invited International Presentations
2011: Istanbul, Turkey - FECAVA Conference
Prizes, Awards and Distinctions
2000: Petsavers - Best research paper in JSAP
Professional Learned Society
2009 - 1970: VET Trust - Director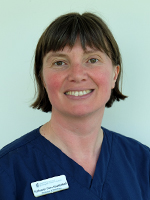 Small Animal Hospital, Glasgow G61 1QH