Dr James Simpson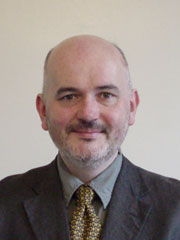 telephone: 01413306346
email: James.Simpson@glasgow.ac.uk
Research interests:
I have worked or am working on various areas in medieval literary studies and on a range of genres mostly from the 12th and 13th centuries. Previous publications have dealt with French Arthurian romance, animal epic (Le Roman de Renart), epic poetry, comic narrative, not to mention the translation and transmission of classical works (especially Ovid). Since early on in my career, I have been (somewhat incorrigibly) interested in exploring modern critical approaches to medieval texts and cultures, notably psychoanalytically-based approaches, gender studies. My more recent projects have also been focusing on questions of manuscript context. Along with my colleague Andrew Roach, I am currently editing the proceedings from the special thematic strand on 'Heresy and Orthodoxy' at the International Medieval Congress at the University of Leeds in July 2009. I am also involved in Project Hunter 252 relating to the compilation known as Les Cent Nouvelles Nouvelles.
Areas of supervision:
I have supervised doctoral dissertations in a range of areas (the Anglo-Norman version of Ami et Amile; masculinity in Grail, masculinity in medieval French Narbonnais cycle; hagiography, space and migration; dialectal features in the Cent Nouvelles Nouvelles ). In terms of medieval studies, I am currently supervising on a project dealing with ideas of location and territory in hagiography and related genres. I have also supervised on a wide range of topics in the context of the M.Litt. in Medieval and Renaissance Studies.
Teaching:
French Level 1: literature and culture; Comparative Literature (various)
Honours options: 'Court and Conflict in Medieval French Literature', 'Satire and Subversion in Medieval French Literature'; 'European Linguistics and Language Study'; 'Vampires'
Postgraduate (PGT) teaching: 'European Studies: Cultures, Societies and Languages in Europe and Beyond; 'Medieval and Renaissance Studies'