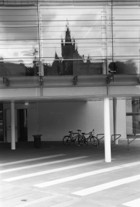 Throughout the years the Faculty of Medicine has played host to a number of famous scholars. But the Faculty has no wish to rest on its laurels. Work has been completed on a new Medical School building, which will produce the medical pioneers of the future. The building provides a world class facility for medical students, containing clinical skills areas and cutting edge computer based learning resources to complement the radically new curriculum. Together with the new BHF Glasgow Cardiovascular Research Centre (GCRC) and the new Biomedical Research Centre it will form a centrally located triangle of excellence in medical education. In the meantime, the Faculty of Medicine continues to maintain a place at the forefront of medical research.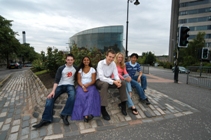 Notwithstanding, the Faculty of Medicine continues to look ahead with the building of new Cancer Research facilities at Gartnavel General Hospital (the Paul O'Gorman Leukaemia Research Centre) and at Garscube Estate (the Cancer Research UK Beatson Institute). There is much discussion at the present time of moving many of the Faculty of Medicine's divisions to an expanded Southern General Hospital to be renamed South Glasgow University Hospitals with the impending closure of the Royal Hospital for Sick Children and the Western Infirmary. The History of the Faculty of Medicine is being rewritten as you read this..more
Following the restructure of the University of Glasgow, from 31st July, 2010, the Faculty of Medicine joins the Faculty of Veterinary Medicine and the Faculty of Biomedical and Life Sciences to become the School of Medicine within the College of Medical, Veterinary and Life Sciences.
To find out more about the history of medicine in the West of Scotland, visit the Hunterian Museum and see 'A Healing Passion'.
Read more in 'Medical Education, Past, Present and Future, Handing on Learning', by the Chancellor, Sir Kenneth C Calman.
A booklet 'A Significant Medical History' based on the contents of our website can be found in the Visitor Centre on Gilmorehill or purchased on line on the University Gift shop website .
And of interest to student nurses and doctors , a new MicroMuseum (or the wee museum) has just opened in the Wolfson Building, created by Dr Marjorie Allison and designed to illustrate 200 years of health care delivery.
Please contact the page editor with any comments about the website.