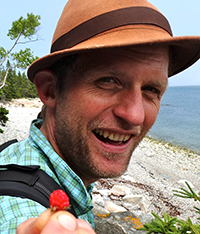 Dr Martin Llewellyn
Senior Lecturer (Institute of Biodiversity Animal Health and Comparative Medicine)
Associate (School of Life Sciences)
My research has a broad focus around host-associated microbiota, parasites, molecular epidemiology, and the role of host-associated microbiota in parasitic disease.
My main research theme focuses on the role of commensal microbiota in salmonid energetics and nutrition. Funded by the BBSRC, Science Foundation Ireland and the Scottish Aquaculture Innovations Centre, we are building an in vivo simulator of the Atlantic Salmon gut alongside colleagues in BAHCM (Prof. Neil Metcalfe); Engineering (Prof. Bill Sloan, Dr. Umer Ijaz); University College Cork, Ireland and industrial collaborators Alltech and Marine Harvest.
Other funded interests cover interactions between sea lice (Lepoephtheirus and Caligus sp) and the commensal microbiota of their salmonid hosts, as well as similar interactions between the Leishmania and their human hosts.
My research 'first love' is the molecular epidemiology of the protozoan parasite Trpanosoma cruzi and I continue to work on the population genetics of this organism, as well as that of New World Leishmania in North, Central and South America.


To find out more please go to the lab website at: https://llewellynlab.wordpress.com/
To view all my publications
Please see
https://scholar.google.com/citations?user=4H-i9b0AAAAJ&hl=en
and
https://www.researchgate.net/profile/Martin_Llewellyn for reprints
Grants and Awards listed are those received whilst working with the University of Glasgow.
BEYOND 2020 (Burrishoole Ecosystem Observatory Network 2020)
Marine Institute
2017 - 2021

A microbial basis for Atlantic Salmon energetics
Biotechnology and Biological Sciences Research Council
2017 - 2020

SalmoSim: A simulated in vitro Atlantic salmon intestinal microbiome system for pre-screening probiotics and feed additives
Scottish Aquaculture Innovation Centre
2017 - 2018

Mucosal health and microbiota during sea lice parasitism: effect of oral delivery of immunomodulants
Biotechnology and Biological Sciences Research Council
2016 - 2018

Leishmaniasis in the Brazilian Amazon: the role of accessory microbiota in disease progression, pathobiology and immunity.
Medical Research Council
2015 - 2017

Landscape genetics guide NTD interventions: Chagas disease in Ecuador and Peru
National Institute of Health
2015 - 2017

Course Coordinator
Level 3
Miniproject course
Lecturer
Level 3
Vertebrate Biology
Parasite Biology
Molecular Methods
Evolutionary Genetics

Level 2
Evolutionary Biology

Number of items: 33.
2017
2016
2015
2014
2012
2011
2010
2009
2005
2004
This list was generated on Sat Jul 22 08:40:05 2017 BST.
Number of items: 33.
Articles
This list was generated on Sat Jul 22 08:40:05 2017 BST.