Ms Julie Clague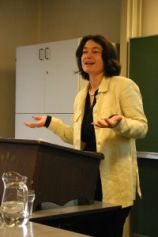 Lecturer (Theology and Religious Studies)
Associate Academic (Institute of Health and Wellbeing)
telephone: 01413306840
email: Julie.Clague@glasgow.ac.uk
Research interests
Julie Clague carries out research in Catholic moral theology and ecclesiology, Catholic social thought, and Christian approaches to public issues. Julie co-edits the journals Political Theology and Feminist Theology. She serves on the steering committees of the American Academy of Religion Ecclesiological Investigations Programme Unit, and its international research network. She is a founder member of the International Association for Catholic Social Thought, and an elected member of the Niebuhr Society.
Biography
Julie Clague studied Chemistry at Nottingham University, and theology at Heythrop College, London University and Jesus College, Cambridge. Julie works as a theologian with the Catholic development agencies CAFOD and SCIAF, and sits on SCIAF's Development Policy Advisory Group. She is a member of the Theological Commission of the Catholic Bishops' Conference of England and Wales agency, Caritas-Social Action. Julie serves on the theological panel of the Centre for Theology and Public Issues at Edinburgh University, and chairs the Ethics Committee of the Assisted Conception Service of Greater Glasgow NHS Trust.
Due to essential maintenance on Enlighten, links to individual publications may be temporarily unavailable
Areas for prospective postgraduate research might include:
Areas for prospective postgraduate research might include:
Catholic (moral) theology and ecclesiology
Christian ethics – fundamental and applied
Catholic social thought
Gender and theology

Julie teaches on the following courses:

World Religions 1A: Christianity, Judaism, Islam; Christianity 1B: Theology; Christianity 2B: Theology and Ethics. She teaches an honours course in Christianity & Bioethics and a Masters Course in Ethical and Pastoral Issues in Healthcare.