Ultrafast chemical physics and physical chemistry
In our ultrafast chemical physics work, we are interested in fundamental chemical-reaction dynamics and the structure and dynamics of chemical and biological systems. Chemical-reaction dynamics are studied using very fast laser pulses in the gas phase while liquids are studied using state-of-the-art femtosecond lasers. Members of the group carry out molecular dynamics simulations in order to explain and inform experimental work.

We study peptides, proteins, and other biomolecules but consider them as amorphous blobs that behave much like liquids. We are especially interested in phase behaviour such as supercooling of liquids (including room-temperature ionic liquids), supramolecular structuring in liquids, folding transitions in peptides, nucleation of crystals from solution, and liquid-liquid and liquid-crystalline transitions. These phenomena are studied with a range of techniques, especially a technique called optical Kerr-effect (OKE) spectroscopy. Using OKE, we can probe the dynamics of molecules in disordered matter from about 15fs to nanoseconds and beyond. This covers motions from fast vibrations, librations, and cage rattling, through to molecular diffusion. The temperature dependent behaviour of these processes tells us about the underlying mesoscopic structure and molecular complexity. Other ultrafast techniques being used are ultrafast infrared pump-probe spectroscopy, two-dimensional infrared (2D-IR) spectroscopy, time-correlated single-photon counting (TCSPC), and time-domain terahertz spectroscopy (THz-TDS).

We have a large number of national and international collaborators. These collaborators help with the theoretical description of the experiments or add experimental techniques to our arsenal such as other spectroscopies, neutron and x-ray scattering, chemical synthesis, etc. Finally, we are organising international scientific conferences such as the RSC Faraday Discussion meeting on 'Mesostructure and Dynamics in Liquids and Solutions' scheduled for Bristol (18-20 Sep 2013).

We work with researchers at the University of Strathclyde in the Ultrafast Chemical Physics in the city of Glasgow collaboration through which we share equipment and exchange students and postdocs. This collaboration allows us to use a much greater range of ultrafast techniques and expertise. The collaboration has resulted in two international research meetings UCP 2008 and 2011. The 2011 UCP meeting in Glasgow was discussed in the March 2012 issue of Nature Chemistry: Ultrafast chemical physics: In search of molecular movies. The future is ultrafast!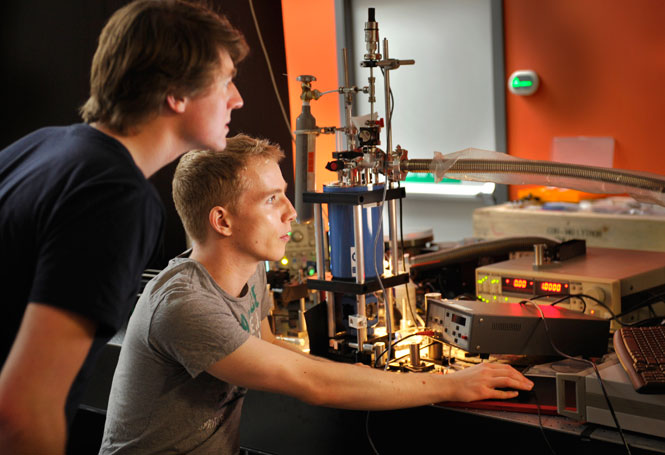 Some links
References