Dr Margaret Fletcher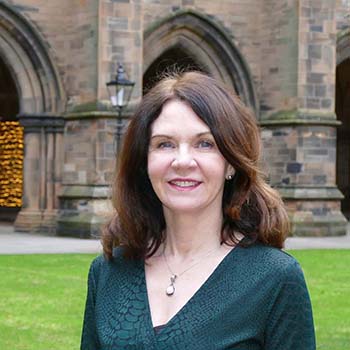 Room 304,, Management,, West Quadrangle - Gilbert Scott, Main Building, Glasgow G12 8QQ
Dr Margaret Fletcher's PhD research involved a longitudinal case study investigation into the internationalisation of Scottish small and medium sized enterprise (SMEs). The firms are participants of the Scottish Enterprise Global Companies Development Programme, which aims to help Scottish SMEs increase their presence in international markets and compete globally. The PhD focused on the learning processes involved in their internationalisation efforts. Scottish Enterprise funded the PhD research and evaluation of the programme.
Margaret was previously a lecturer at the University of Stirling in the Entrepreneurship Centre. She was Director of the MSc in Entrepreneurial Studies (Distance Learning) and Director of Graduate Enterprise. As a lecturer she specialised in the financing of small firms. Research interests and publications include bank lending to small firms and graduate entrepreneurship. She assisted Professor David Deakins at the University of Paisley on a UK wide investigation into the Financing of Ethnic Minority Business for the Bank of England and the Dti, and Women's Enterprise research for the Scottish Executive. Margaret won first prize in the Scottish Enterprise case writing competition for Teaching Case Studies of Entrepreneurial Scottish Companies.
Areas of expertise:
International entrepreneurship
International Marketing
International Business
Entrepreneurship
2013 - BA/Leverhulme grant, Case Study Sampling: A Study of Practices in International Business, £9511.00, Ref 40103100
2008 - 2009 ESRC Post Doctoral Research Grant (PI): Learning Processes of Internationalising firms (£61,973), Ref PTA-026-27-1818
Potential PhD student topics
Dr Fletcher's research area is currently small firm growth through internationalisation and international entrepreneurship, and the role of internationalisation and entrepreneurship policy and evaluation in economic development.
Her particular focus is SME internal knowledge transfer and organisational learning specifically in knowledge acquisition sources and knowledge assimilation processes used by internationalising SMEs. She has also published in the financing of small firms.
Current PhD students
Co-supervisor: Professor Pavlos Dimitratos
Nur Izzati binti Mohamad Anuar
Email:n.mohamad-anuar.1@research.gla.ac.uk
Thesis title: Inward-Outward Internationalization in Small-Medium Enterprises (SMEs): Learning Approach
Co-supervisor: Professor Marian Jones
GhaniyaAl-hatmi
Thesis title: The role of entreprenurial orientation in international Omani SMEs performance, and moderating role of network relationships
Co-supervisor: Professor Marian Jones
Postgraduate:
Course director of the Business and Management: 1B Marketing course, responsible for 350-430 students, co-ordinate a team of 8-10 tutors and assessors
First year co-ordinator of the Business and Management degree
Course Leader in Internationalisation, Entrepreneurship and Innovation, MSc in International Business and Entrepreneurship (2012)
Course leader MSc Export Marketing (2013)
Other lecturing responsibilities: International Management Solution projects, MSc in International Business and Entrepreneurship (2009-13), Entrepreneurship (undergraduate) Management for Accountants (undergraduate)
Supervision: honours, MBA and MSc dissertations
PhD doctoral researcher supervisor (3) - two as first supervisor 2013 (externally funded from Oman and Malaysia) and one second supervisor (2011-13), Internal PhD Examiner (2013), Viva Convenor (2012)
Assessment: undergraduate and MSc levels, which include assignments, examinations, project reports, dissertations, and internal PhD examiner.
Margaret is a member of the International Business and Enterprise (IBE) research cluster at the Adam Smith Business School and specialises in Knowledge acquisition and learning. IBE is a community for multidisciplinary study in internationalisation and enterprise with a worldwide network of internationally acclaimed scholars.
As part of this research cluster, Margaret and other members held a workshop on Entrepreneurial Learning: Growth and Internationalisation in 2013, co-hosted by The Institute for Small Business and Entrepreneurship (ISBE). A video and a flyer from this event is available: Entrepreneurial Learning: Growth and Internationalisation workshop
An article by Margaret published in the Journal of International Marketing was selected for the 2013 S Tamer Cavusgil Award as making the most significant contribution to the advancement of the practice of international marketing management.
Fletcher, M., Harris, S. and Richey, G. (2013) 'Internationalization knowledge; Who, What, Why and When?', Journal of International Marketing, Vol. 21, No. 3, pp. 47-71.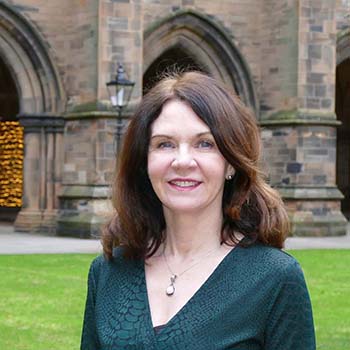 Room 304,, Management,, West Quadrangle - Gilbert Scott, Main Building, Glasgow G12 8QQ