Ms Jeanette Findlay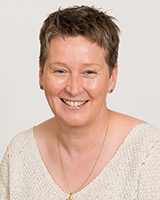 College of Social Sciences, Adam Smith Business School, Gilbert Scott Building,
Senior Lecturer (Economics)
Jeanette joined Economics at Glasgow in 1987. She has held a range of posts and has degrees from the Universities of Strathclyde and Bristol.
Areas of expertise
Applied Microeconomics
Skills and Education
Gender and Work
Economics of Sport
Poverty and Inequality
Numerous funded consultancies from Scottish Government, local authorities, trades unions and TUC/STUC with measurable policy impact.
Current PhD students
Victor Ekpu
Thesis title: Bank characteristics and small business lending
Co-supervisor: Dr Alberto Paloni
Gabriele Franchi de'Cavalieri
Co-supervisor: Dr Alberto Paloni
Tobias Franz
Thesis Title: Poverty reduction and economic development in urban areas in Colombia – is the concept of a "local developmental state" a preferable, reasonable and achievable strategy?
Co-supervisor: Dr Alberto Paloni and Professor Dennis Rodgers (Urban Studies)
Postgraduate:
MPhil Gender and Development – Gender and Poverty
PhD supervision
Masters level dissertation supervision
Undergraduate: Honours options
Government and the Economy (teaching and co-ordinating) (current)
Economics of Housing (teaching and co-ordinating) (current)
Contemporary Issues in Income Inequality (teaching and co-ordinating) (current)
Economics of Business 2
Non-Honours
Level 2 Economics – microeconomics
Maths for Economists – tutorials