Professor Christian Ewald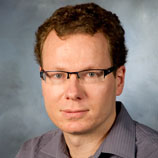 Room 207b Level 2, Main Building, West Quadrangle, Glasgow G12 8QQ
Professor in Financial Economics (Economics)
Research interests
Quantitative Finance, Mathematical Economics, Macroeconomics and Financial Linkages, Environmental amd Resource Economics
Biography
Christian was educated at the Universities of Mainz (MSc) and Heidelberg (PhD) and holds a higher doctorate (Habilitation) from the University of Kaiserslautern. Prior to moving to Glasgow in 2011, he has held positions at the University of Sydney, Nottingham University Business School (China), University College Cork, University of St. Andrews and the University of Leeds.
ARC Discovery Project "Quantitative and qualitative aspects of Asian and Australian options" funded with 150.000 AUD (approx. 98.000 GBP)
Fields Institute Toronto "Quantitative Finance" funded with 3.000 CAD (approx. 1.900 GBP)
University of Sydney "Starting Grant" funded with 40.000 AUD (approx. 26.000 GBP)
Royal Society UK "Exterior Differential Calculus in Macroeconomics" funded with 3.000 GBP
Economics Network and UK Higher Education Council "PhD Seminars in Mathematical Economics" funded with 2.750 GBP
PhD Supervision areas
Professor Ewald is interested in supervising PhD students in the following areas: Quantitative Finance, Mathematical Economics, Macroeconomics and Financial Linkages, Environmental and Resource Economics.
Current PhD students
Jilong Chen
Co-supervisor: Dr Minjoo Kim
Amalia Christoforidou
Thesis title: Optimal execution strategies via optimal stopping time and Markov controls.
Co-supervisor: Dr Georgios Sermpinis and Dr Giamouridis (Athens University of Economics and Business)
Yating Li
Thesis title: Credit scoring using parallel data mining.
Co-supervisor: Professor Mario Cerrato
Yang Zhao
Thesis title: Estimating VaR and CVaR by a pair-copula-GARCH model with MCMC methods: Empirical research on foreign exchange markets.
Co-supervisor: Professor Mario Cerrato
Postgraduate: Mathematical Finance, Computational Economics and Finance
Some of Christian's working papers are available at the social science research network (SSRN):
http://papers.ssrn.com/sol3/cf_dev/AbsByAuth.cfm?per_id=548390
Christian is a Honorary Research Fellow of the University of Sydney as well as a Research Affiliate of the "Centre for Dynamic Macro Economic Analysis" and the "Centre for Research into Industry, Enterprise, Finance and the Firm" at the University of St. Andrews.
Christian currently acts as an external examiner for Xian Jiatong & Liverpool University in Suzhou, China.
Number of items: 42.
2014
2013
2012
2011
2010
2009
2008
2007
2006
2005
2004
This list was generated on Fri May 29 16:34:46 2015 BST.
Number of items: 42.
Articles
Book Sections
This list was generated on Fri May 29 16:34:46 2015 BST.