Dr Alexander Kovalenkov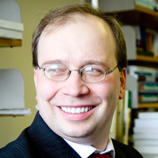 Room 307B, Gilbert Scott Building, Glasgow G12 8QQ,
Research interests
Research interests include Game Theory, Economies with Clubs, Theory of Incentives, Social Choice, Information Economics, and General Equilibrium. Recently I have developed a strong interest in Financial Markets. Teaching interests include all level courses in Microeconomics, Mathematics for Economists, Game Theory, General Equilibrium, and Theoretical Finance.
Biography
Alexander joined the Business School in September 2005. He previously held a post at the University of North Carolina at Chapel Hill (USA) 1998–2005 and, during that period, acted as a visiting scholar at the California Institute for Technology; New York University; University of Warwick and as a Research Fellow at Washington University. He holds degrees from St Petersburg State University, Russia and Universitat Autonoma de Barcelona, Spain.
Kovalenkov, A., and Vives, X. (2014) Competitive rational expectations equilibria without apology. Journal of Economic Theory, 149 (1). pp. 211-235. ISSN 0022-0531 (doi:10.1016/j.jet.2013.05.002)
Kovalenkov, A., and Wooders, M. (2003) Approximate cores of games and economies with clubs. Journal of Economic Theory, 110 (1). pp. 87-120. ISSN 0022-0531 (doi:10.1016/S0022-0531(03)00003-6)
Kovalenkov, A. (2002) Simple strategy-proof approximately Walrasian mechanisms. Journal of Economic Theory, 103 (2). pp. 475-487. ISSN 0022-0531 (doi:10.1006/jeth.2000.2788)
Research interests
Research interests include Game Theory, Economies with Clubs, Theory of Incentives, Social Choice, Information Economics, and General Equilibrium
Current PhD students
Thesis title: Credit risk modelling for multilateral development banks.
Co-supervisor: Dr Mario Cerrato
Thesis title: Mental accounting, proportionality and frame dependence: an evaluation in relation to price perception.
Co-supervisor: Dr Arjunan Subramanian
Thesis title: The role of culture in economics.
Co-supervisor: Dr Arjunan Subramanian
Thesis title: Microfinance and the agricultural sector of Sub-Saharan Africa.
Co-supervisor: Dr Arjunan Subramanian
Postgraduate: Financial Sector Stability and Growth; Mathematical Finance