Dr Esther Schnettler
MRC-University of Glasgow, Centre for Virus Research, 464, Bearsden Road, Henry Wellcome Building
Affiliate (Centre for Virus Research)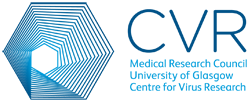 Arboviruses are transmitted by biting arthropods (e.g. mosquitoes, ticks and midges) to mammals (including humans) and can cause severe disease. Important arboviruses affecting humans and life stocks are the mosquito-borne chikungunya virus, dengue virus, Rift valley fever virus; the midge-borne Schmallenberg virus, Bluetongue virus and the tick-borne Crimean Congo haemorrhagic fever virus and tick borne encephalitis virus.
Arboviral infections in vertebrate cells result in strong cytophatic effects. In sharp contrast, in arthropod cells persistent, non-cytopathic infections are usually observed, most likely due to an effective innate immune response.
The aim of my work is to further understand the interaction of arboviruses with their vector innate immune responses, particularly the RNAi machinery. At the moment, I am focusing on the mosquito arbovirus vector, but I am also interested in the tick and midge arbovirus vector. The findings will extend our knowledge on the interactions between virus and arthropod vector, and will be important for further research in the field including the development of novel prevention strategies.
Grants and Awards listed are those received whilst working with the University of Glasgow.
The emergence of Zika virus in Brazil: investigating prevalence and host responses to design preventive strategies
Medical Research Council
2016 - 2019

MAPP
European Commission
2015 - 2017

Number of items: 23.
2016
2015
2014
2013
2012
2010
2009
This list was generated on Mon Jul 25 04:44:05 2016 BST.
Number of items: 23.
Articles
This list was generated on Mon Jul 25 04:44:05 2016 BST.