Richard Reeve
Richard Reeve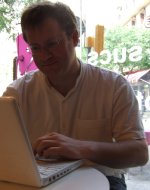 Co-director, Boyd Orr Centre for Population and Ecosystem Health
Visiting Research Fellow, The Pirbright Institute
Institute of Biodiversity, Animal Health and Comparative Medicine
College of Medical, Veterinary & Life Sciences
Room 314, Graham Kerr Building
University of Glasgow, Glasgow, G12 8QQ
Tel.: +44 (0)141 330 6638
Email: richard.reeve@glasgow.ac.uk
Previous Academic History
Previous Academic History
2003-2005: Research Fellow, Informatics, University of Edinburgh
2003: Staff, Neuroinformatics, ETH (Zurich) / University of Zurich
2000-2002: Postdoc, Psychology, University of Stirling
1999: Postdoc, Cognitive Science, University of Edinburgh
1994-1999: PhD, Artificial Intelligence, University of Edinburgh
1993-1994: MSc, Artificial Intelligence, University of Edinburgh
1989-1992: BA, Mathematics, University of Cambridge
Research Interests
Research Interests
I am a mathematical modeller with a background in Machine Learning. My interests lie in the application of mathematical, computational and statistical tools to underexploited biological datasets, particularly focussing on pathogens and vaccines, where large amounts of data are collected on protection for testing purposes which can be reused to investigate vaccine:immune system interaction. I am more generally interested in epidemiological systems and host-pathogen interactions, particularly how they affect our ability to predict the effects of vaccines in the real world. I am currently involved several projects funded by the UK government and research councils as well as the EU and the FAO.
My main focus has been on computational predictions of the immunological cross reactivity of different strains of the foot-and-mouth disease virus (FMDV) from the amino-acid sequences of their antigenic proteins. Existing and new collaborations in this area with the Institute for Animal Health in Pirbright (funded by the EU and BBSRC/DfID/Scottish Government), Onderstepoort Veterinary Institute in South Africa (previously funded by BBSRC, now FAO and SADC) and Plum Island Animal Disease Center (USA) feed into and extend this research as well as providing access to new sources of data. A collaboration with the WHO Influenza Centre at the MRC National Institute for Medical Research in London is extending the approaches used here to Influenza A, and an MRC-funded studentship on this has just begun.
I am also collaborating with the FMD Vaccine Group at Pirbright to understand how we can better assess vaccine efficacy (funded by DEFRA), and this collaboration includes SENASA in Argentina, and I am part of a broader European project with all of the main European FMD research laboratories to improve FMDV vaccine efficacy testing and cross-protection prediction (with EU FP-7 funding).
New collaborations with the Vet School and Mathematics within the University are also developing a better understanding of the measurement of diversity, both the antigenic diversity of viruses and MHC diversity of livestock as well as more general measures of genetic and bio-diversity (funded by the EU and Spain).