Sharing the experience
Issued: Tue, 22 Jan 2013 12:07:00 GMT
It's well known that the organisers of the Edinburgh Festivals can count on the best performers and artists to help them deliver one of the world's foremost cultural events. But somewhere, a little further from the limelight, they also have access to some of Scotland's best computing scientists.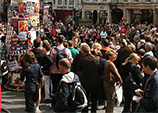 Smart Tourism is a research collaboration among Glasgow, Edinburgh, St Andrews, Aberdeen and Robert Gordon universities with £600,000 from the Scottish Funding Council. Scientists from these institutions partner with cultural and tourism bodies in Scotland to contribute their expertise in research and development.
Glasgow scientists Dr Matthew Chalmers and Don McMillan are developing a prototype that can integrate existing systems and data streams into an iPad app for the Edinburgh International Festival.
To Dr Chalmers, the potential in this area is about more than just making one app to replace the use of five. It's about recognising the interplay between the users, the infrastructure and the interface in a specific context. A mobile device becomes a tool that captures all of the online requirements for festival goers, without impinging upon their experience of the city, the performances and the life of the festival. In doing this, the whole experience is enhanced.
'The experience of the city at festival time is to go to a café, meet some friends, read about a show in the newspaper, buy tickets, attend a show, and to post pictures and comments about it on Facebook,' he explains. 'All these different fragments are not actually fragments in people's experience; they are just part of their day. We want to cut across the different types of information that people use to deliver a better experience.'
To develop the app, research assistant Don McMillan worked directly with the Friends and Patrons of the Edinburgh International Festival, who pay a fee each year to have priority ticket access to Festival events and various other benefits.
'As people who go to festivals a lot and live in Edinburgh, they get called up every year by groups of friends saying, "We want to come on Tuesday. What should we see?" They wanted something to support that. The idea was to allow them to use their history: use all the data they've gathered by going to the festivals again and again; and let them build a story.'
Whether the app will ever be fully developed and launched is ultimately in the hands of the Festival organisers. Just as they want to identify and promote the artistic performances that create the right experience, new technologies and tools also have to be the right fit. If the project is right for them they can develop it with their own resources or by attracting further funding.
According to Dr Chalmers, collaborative working of this kind is interesting because a key area of focus for his research is the changing nature of the software development cycle. User groups are in a continual process of modifying and sharing software to suit their own contexts. In doing this, they form new user groups outside of the original scope of the developers. Data from this process informs the developers so that they can feed back into the cycle.
To model and understand this process, the researchers deploy games or tools that are able to track the user-driven modification and group formation. Participants understand and are explicitly aware of an application's research aims. Dr Chalmers sees potential to work with festivals on this. Such events would drive rapid software modification as new user groups develop to meet their own diverse needs.
'This could be just about one of the best places for trying out new software on the planet,' he says. 'You've got millions of people coming to a small area that they don't know very well to do stuff that they don't know about in advance, but are determined to enjoy. And there's coordination; there's finding out about new things; there's wanting a satisfying experience, usually in a very social kind of way. A percentage of people would be willing to participate. A small percentage of a very large number of people could be a rich group of people trying out new software.'
Find out more
---