Research assessment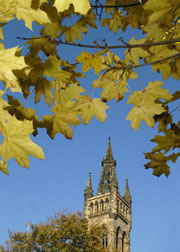 The Research Assessment Exercise (RAE) is the UK bench-marking exercise to measure the quality of research conducted by universities across the UK. It is an internationally recognised barometer of quality undertaken roughly every seven years, with the final RAE taking place in 2008. (The RAE has since been replaced by the 'Research Excellence Framework', which will be completed in 2014.)
In the 33 subject areas of the 2008 RAE, the majority of research at Glasgow was assessed as being world-leading or internationally excellent. These results reflect strategies aimed at building and supporting a world-class research base, internationally excellent researchers and a high-quality postgraduate research environment and confirmed our position as one of the top 100 universities in the world.
THES produced a definitive list of rankings based on a Grade Point Average measure of quality, on which we have based the following highlights.¹
---
Highlights (RAE 2008)
Glasgow submitted research to 48 out of a possible 67 Units of Assessment.
33 subject areas had the majority of their profile classified as 'world-leading' or 'internationally excellent'. These areas cover over 75% of staff submitted to the RAE.
All subject areas in which the University made a submission are producing research rated 'internationally excellent'.
History of Art is the most highly rated of any university in the UK.
The School of Veterinary Medicine has been rated the joint best in the UK.
Glasgow's research in Cancer Studies and Accounting and Finance is rated in the UK top five.
A further 14 subjects are rated top 10 in the UK including Cardiovascular Medicine, Infection and Immunology, Dentistry, Allied Health Professions (Nursing), Physics, Computer Science and Informatics, Electrical and Electronic Engineering, Town and Country Planning, Library and Information Management, Psychology, European Studies, Celtic Studies, English Language and Literature and Drama, Dance and Performing Arts.
14 subjects were rated the best in Scotland.
Glasgow is ranked 14th in the UK in the Research Fortnight's RAE 2008 Power Table.
Full University of Glasgow performance is available on the RAE 2008 website.
---
¹It is important to note that the new system of research profiles introduced for RAE 2008 allows results to be interpreted in a variety of ways. For example, taking Unit of Assessment 1 (Cardiovascular Medicine) and looking at the THES ranking, Glasgow appears 6th in the UK. If you compare institutions with the most 4* rated research, however, then Glasgow ranks 3rd in the UK behind only Imperial and Oxford. If you compare institutions with the most 4* and 3* rated research, Glasgow is 2nd, again only behind Imperial. The results are therefore open to a variety of different league table interpretations.