Theatre Studies
MLitt
Apply now
Why Glasgow?
Related links
Other programmes in the subject of Theatre Studies:
This Masters programme engages with a wide variety of histories and practices attached to the study of theatre. It is designed to enable you to become proficient in the techniques of historical, sociological and theoretical analysis of the theatrical process, past and present. A key strength of this programme is its flexibility, which enables you to create a portfolio of courses based on your individual needs and interests. You will be taught by leading academics as well as external professional practitioners.
Key facts
Our facilities include a studio theatre and large flexible-seat theatre seating over 200 spectators.
Glasgow is the base for a number of nationally significant theatre organisations, including the National Theatre of Scotland, the Playwrights' Studio Scotland, Ankur Arts, Vanishing Point and Theatre Cryptic.
The city of Glasgow provides an unbeatable location for the programme. Glasgow is home to a huge variety of theatres that produce and show a range from the experimental and risky, to the traditional and repertory, from canonical and new writing, to devised and physical performance. World leading venues include the Citizens Theatre, Tramway, Centre for Contemporary Art (CCA) and the Glue Factory.
The programme is mostly comprised of optional courses, enabling you to create your own Masters programme. It also allows you to work in an interdisciplinary capacity, selecting courses from across the College of Arts, according to personal interests. The programme convenor will work with you to ensure a sensible portfolio of courses is constructed, according to your personal aims and objectives.
Core teaching is delivered in two semesters, followed by an independent desk- or practice-based project. The Independent Research Project provides an opportunity for you to identify an area of interest and to create a research project that allows in-depth critical exploration of this.
Core courses
Research Methods
Independent Research Project.
Optional courses
You will undertake five optional courses which you will select from a pool of courses. Optional courses are updated each year, but may include:
Applied Theatre
Arts Criticism
Contemporary Devising Practices
Debating Dramaturgy
Directing
Documentary Drama
Exhibiting Cultures
Festivals
Interwar cultures
Performance Theory and Analysis
Playwriting
Shakesperean Adaptations
Space, Place and Performance
Theatre Archive Placement
Work placement
By the end of this programme you will have developed knowledge of a range of issues pertinent to the study of theatre, including historical, contemporary, theoretical and practical. This programme will allow you to develop a wide range of subject knowledge combined with confidence in utilising different research methodologies.
The programme is comprised of a number of courses, with different credit weightings. The programme is mostly comprised of optional courses, allowing you to create your own Masters programme.


Core courses
Research Methods
Research Methods is an exploration of key research methodologies relevant to the critical and practical study of performance, leading to the development of a real (or imagined) research project. Research Methods provides an introduction to a range of research methodologies, including: oral history, using archives, visual cultures, practice as research, the laboratory as a place of experiment. The course is designed to help students select individual study options as well as gain experience in a range of key research methodologies by making full use of available archival and digital resources.

Independent Research Project
The IRP offers you a range of opportunities to explore something of interest to you, applying an appropriate methodology. For example, you may choose to produce a 15,000 word dissertation, undertaking primary and secondary research in the pursuit of new knowledge that relates to the fields of theatre and drama; or you may choose to undertake a more applied project.

‌Optional courses
You will choose 100 credits' worth of optional courses from a selection – for example:
Applied Theatre
Current Issues
Debating Dramaturgy
Documentary Drama
Greek Tragedy
Interwar Cultures
Exhibiting Cultures
Festivals
Modern Greek Theatre
Playwriting
Reading and Interpreting Performance
Shakespearean Adaptations
Space, Place and Performance
Theatre Archive Placement
Work Placement
You can select courses from across the College of Arts, according to personal interests. The programme convenor will work with you to ensure a sensible portfolio of courses is constructed, according to your personal aims and objectives.


Assessment
During the programme you will undertake a range of assessment methods including essays, critical report, literature review, oral presentations, workshop demonstrations, annotated bibliography, and an independent research project.

Teaching methods
Teaching methods are determined by the different needs of the courses and include seminars, one-to-one tutorials, placements and workshops. They are delivered by staff in Theatre Studies, alongside professional practitioners. Other occasional workshops, seminars and events are organised throughout the year by both staff and students. Students also have the opportunity to audit other courses, as appropriate. Students are encouraged to create opportunities for informal peer support outside teaching hours.


Practitioners, Processes, Professions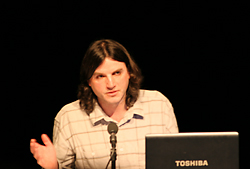 Theatre Studies runs a strand of workshops/seminars under the title 'Practitioners, Processes, Professions'. We regularly invite practitioners to discuss their work with students and staff, and often to accompany these discussions with a 3-hour workshop for interested students.

In recent years, visiting practitioners have included:
Euan Downey, Polish Laboratory Theatre
Nic Green, performance artist/director
David Greig, playwright and dramaturg
Guillermo Gómez-Peña, international performance artist
Ben Harrison, Grid Iron theatre company
Stewart Laing, international director and artistic director Untitled Productions
Kira O'Reilly, UK-based artist
Tian Qinxin, theatre director, National Theatre of China
Anthony Schrag, performance artist
Reckless Sleepers, performance company
Robert Sturm, Artistic Director of Tanz Theater Pina Bausch Wuppertal

Theatre Studies Research Seminars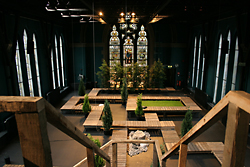 The Theatre Studies Research seminars are held three to four times during term-time, and host papers from visiting speakers and distinguished scholars, as well as profiling on-going research by Theare Studies staff. The seminar series provides a forum within which postgraduate students and staff can meet to discuss and debate current research in the fields of drama, theatre and performance studies. Each session offers an interdisciplinary context for discussion.


---------------------------------------------------------------------------------------

In previous years guest speakers at the Theatre Studies Research Seminar series have included:

Lucy Weir, History of Art, University of Glasgow: In Vogue: The Evolution of 20th Century Contemporary Dance: a lecture/demonstration with Ruth Mills

Professor John Hall, University College Falmouth: Practising and essaying near the sign of Performance Writing

David Grant, Queen's University, Belfast: 'Living in the Moment': time, space, the arts and dementia

Robert Sturm, Artistic Director of Tanztheater Pina Bausch Wuppertal: The Work of Pina Bausch

Dr Anna Birch, Royal Scottish Academy of Music and Drama (RCS): Repetition and performativity: multi layered fresco as living monument

Professor Elinor Fuchs, Yale School of Drama: Postdramatic theatre and its discontents: the future of a theory

Professor David Williams, Royal Holloway, University of London: Lone Twin Theatre's Catastrophe Trilogy
The programme is team-taught by University staff and external specialists --

The core members of the teaching team in Theatre Studies are:
Collaborations, Placements and Guest practitioners
In addition to the staff members above, students benefit from collaborations with and placements at local and national theatre companies and arts organisations. Previous students have, for example, undertaken placements at: the CCA, The Citizens' Theatre, National Theatre of Scotland, Òran Mór, Playwrights' Studio Scotland, The Traverse, and The Tron Theatre. Students also benefit from workshops and masterclasses facilitated by professional practitioners – guest workshop facilitators have included George Aza-Selinger (dramaturg, National Theatre of Scotland), Sylvia Dow (playwright), David Greig (playwright and dramaturg), Philip Howard (director), Alan McKendrick (playwright), and Pamela McQueen (dramaturg).
Our facilities include a studio theatre, a large flexible-stage theatre seating over 200 spectators, and a 140 seat cinema.
James Arnott Theatre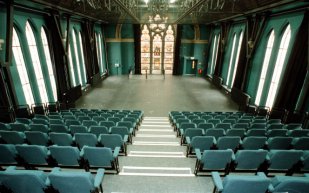 The Theatre, named in memory of the founding Head of Drama, has a capacity of 182 in studio-theatre format. It has a large wire-mesh 'trampoline' lighting grid installed, the only example of its kind in Scotland and one of only three in the UK. Lighting and sound are fully computerised.
Performance Studio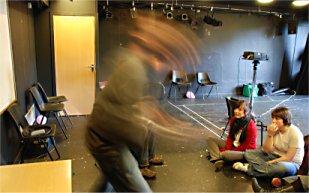 This space is equipped with lighting and sound facilities and may be used as a rehearsal room or where practical work such as video production, theatre direction, playwriting, design or stage management can take place.
'Carpentry Room' studio and Green Room
These two smaller spaces are regularly used by students for rehearsal and 'laboratory' exploration.
Andrew Stewart Cinema
The Cinema is used for lectures and screenings. The following media can be projected:
35mm film
16mm film
Blu-ray
DVD
VHS
Mini DV
Computer data

Video Editing
We have 2 non-linear digital video edit suites installed in the building in recognition of the fact that TFTS have been developing a need for high-quality, digital editing facilities to be accessible on-demand by students, both undergraduate and postgraduate, working on Video Production Projects or on Multimedia Production and moving-image digitisation assignments of various kinds.
Both suites are of a similar specification:
27" iMac
3TB external HDD
Super drive
Final Cut Pro X
Adobe Creative Cloud suite (Premiere Pro, Photoshop, After Effects, etc)
Wireless keyboard and mouse

One suite also has a VHS deck for capturing from that format.
Resources Room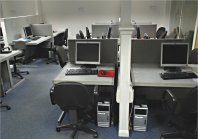 The Resources Room (RR) is an indispensable part of our teaching, learning and research environment. It provides a suitable environment, encouraging student users to take increased responsibility for their own learning while supporting them in the development of approaches to independent study and the acquisition of 'transferable' skills. It also provides a flexible infrastructure within which methods of teaching and assessment related to information technology can be introduced.

The RR consists of 19 fully networked PCs, 12 TV/VHS workstations with DVD and digital satellite viewing also available, and an extensive, fully computerised video library (VHS/DVD) of over 6000 items including feature films, television programmes, cinema shorts, recorded theatrical performances, extracts and documentaries relating to a wide range of cinema, broadcasting and theatre activity.
This programme examines the nature and function of the theatrical event and theatre culture from a range of critical, historical and practical perspectives. It prepares you for a wide range of careers closely connected to theatre provision and production.
The programme's critical components also provide a good foundation for those wishing to progress to doctoral study.
Entry requirements for postgraduate taught programmes are a 2.1 Honours degree or equivalent qualification (for example, GPA 3.0 or above) in a relevant subject unless otherwise specified.
International students with academic qualifications below those required should contact our partner institution, Glasgow International College, who offer a range of pre-Masters courses.
For applicants whose first language is not English, the University sets a minimum English Language proficiency level.
International English Language Testing System (IELTS) Academic module (not General Training):
overall score 6.5
no sub-test less than 6.5
or equivalent scores in another recognised qualification:
Common equivalent English language qualifications
All stated English tests are acceptable for admission for both home/EU and international students for this programme:
ibTOEFL: 92; no sub-test less than:

Reading: 23
Listening:23
Speaking: 23
Writing: 24

CAE (Cambridge Certificate of Advanced English): 176 overall; no sub-test less than 176
CPE (Cambridge Certificate of Proficiency in English): 176 overall; no sub-test less than 176
PTE Academic (Pearson Test of English, Academic test): 64 overall; no sub-test less than 62
Trinity College London Integrated Skills in English: ISEII at Distinction with Distinction in all sub-tests
For international students, the Home Office has confirmed that the University can choose to use these tests to make its own assessment of English language ability for visa applications to degree level programmes. The University is also able to accept an IELTS test (Academic module) from any of the 1000 IELTS test centres from around the world and we do not require a specific UKVI IELTS test for degree level programmes. We therefore still accept any of the English tests listed for admission to this programme.
Pre-sessional courses
The University of Glasgow accepts evidence of the required language level from the English for Academic Study Unit Pre-sessional courses. We also consider other BALEAP accredited pre-sessional courses:
What do I do if...
my language qualifications are below the requirements?
The University's English for Academic Study Unit offers a range of Pre-Sessional Courses to bring you up to entry level. The course is accredited by BALEAP, the UK professional association for academic English teaching; see Links.
my language qualifications are not listed here?
Please contact the Recruitment and International Office: pgadmissions@glasgow.ac.uk
For further information about English language requirements, please contact the Recruitment and International Office: pgadmissions@glasgow.ac.uk
Tuition fees for 2017-18
MLitt
Home and EU
Full time fee
£7250
Part time 20 credits
£806
International
Full time fee
£16000
Fees are subject to change and for guidance only
Fee for submission by a research student: £460
Fee for re-assessment of a dissertation (PGT programme): £300
Submission for a higher degree by published work: £1,000
Submission of thesis after deadline lapsed: £200
Submission by staff in receipt of staff scholarship: £680
Research students registered as non-supervised Thesis Pending students (50% refund will be granted if the student completes thesis within the first six months of the period): £260
Registration/exam only fee: £110
General Council fee: £50
A 10% discount is available to University of Glasgow alumni applying to the MLitt. This includes graduates and those who have completed a Junior Year Abroad, Exchange programme or International Summer School at the University of Glasgow. The discount is applied at registration for students who are not in receipt of another discount or scholarship funded by the University. No additional application is required.
Funding opportunities
We ask that you apply online for a postgraduate taught degree. Our system allows you to fill out the standard application form online and submit this to the University within 42 days of starting your application.
You need to read the guide to applying online before starting your application. It will ensure you are ready to proceed, as well as answer many common questions about the process.
Do I have to apply online for a postgraduate taught degree?
Yes. To apply for a postgraduate taught degree you must apply online. We are unable to accept your application by any other means than online.
Do I need to complete and submit the application in a single session?
No. You have 42 days to submit your application once you begin the process. You may save and return to your application as many times as you wish to update information, complete sections or upload additional documents such as your final transcript or your language test.
What documents do I need to provide to make an application?
As well as completing your online application fully, it is essential that you submit the following documents:
A copy (or copies) of your official degree certificate(s) (if you have already completed your degree)
A copy (or copies) of your official academic transcript(s), showing full details of subjects studied and grades/marks obtained
Official English translations of the certificate(s) and transcript(s)
Two supporting reference letters on headed paper
Evidence of your English Language ability (if your first language is not English)
Any additional documents required for this programme (see Entry requirements for this programme)
A copy of the photo page of your passport (Non-EU students only)
If you do not have all of these documents at the time of submitting your application then it is still possible to make an application and provide any further documents at a later date, as long as you include a full current transcript (and an English translation if required) with your application. See the 'Your References, Transcripts and English Qualification' sections of our Frequently Asked Questions for more information.
Do my supporting documents need to be submitted online?
Yes, where possible, please upload the supporting documents with your application.
How do I provide my references?
You must either upload the required references to your online application or ask your referees to send the references to the University as we do not contact referees directly. There is two main ways that you can provide references: you can either upload references on headed paper when you are making an application using the Online Application (or through Applicant Self-Service after you have submitted your application) or you can ask your referee to email the reference directly to pgadmissions@glasgow.ac.uk. See the 'Your References, Transcripts and English Qualifications' section of the Frequently Asked Questions for more information.
What if I am unable to submit all of my supporting documents online?
If you cannot upload an electronic copy of a document and need to send it in by post, please attach a cover sheet to it that includes your name, the programme you are applying for, and your application reference number.
You may send them to:
Postgraduate Admissions
Marketing, Recruitment & International Office
71 Southpark Avenue
Glasgow
G12 8QQ
Fax: +44 141 330 4045
Can I email my supporting documents?
No. We cannot accept email submissions of your supporting documents.
What entry requirements should I have met before applying? Where can I find them?
You should check that you have met (or are likely to have met prior to the start of the programme) the individual entry requirements for the degree programme you are applying for. This information can be found on the 'entry requirements' tab on each individual programme page, such as the one you are viewing now.
What English Language requirements should I have met before applying? Where can I find them?
If you are an international student, you should also check that you have met the English Language requirements specific to the programme you are applying for. These can also be found on the 'entry requirements' tab for each specific programme.
Further Information
Please see the Frequently Asked Questions for more information on applying to a postgraduate taught programme.
Guidance notes for using the online application
These notes are intended to help you complete the online application form accurately, they are also available within the help section of the online application form. If you experience any difficulties accessing the online application then you should visit the Application Troubleshooting/FAQs page.
Name and Date of birth: must appear exactly as they do on your passport. Please take time to check the spelling and lay-out.
Contact Details: Correspondence address. All contact relevant to your application will be sent to this address including the offer letter(s). If your address changes, please contact us as soon as possible.
Choice of course: Please select carefully the course you want to study. As your application will be sent to the admissions committee for each course you select it is important to consider at this stage why you are interested in the course and that it is reflected in your application.
Proposed date of entry: Please state your preferred start date including the month and the year. Taught masters degrees tend to begin in September. Research degrees may start in any month.
Education and Qualifications: Please complete this section as fully as possible indicating any relevant Higher Education qualifications starting with the most recent. Complete the name of the Institution (s) as it appears on the degree certificate or transcript.
English Language Proficiency: Please state the date of any English language test taken (or to be taken) and the award date (or expected award date if known).
Employment and Experience: Please complete this section as fully as possible with all employments relevant to your course. Additional details may be attached in your personal statement/proposal where appropriate.
References: Please provide the names and contact details of two academic references. Where applicable one of these references may be from your current employer. References should be completed on letter headed paper and uploaded on to your application.
Standard application deadlines
International applications (non-EU): 21 July 2017
UK and EU applications: 25 August 2017
Classes start September 2017 and you may be expected to attend induction sessions the week before.
Apply now