Creative Writing
MFA

Related links
Other programmes in the subject of English Literature: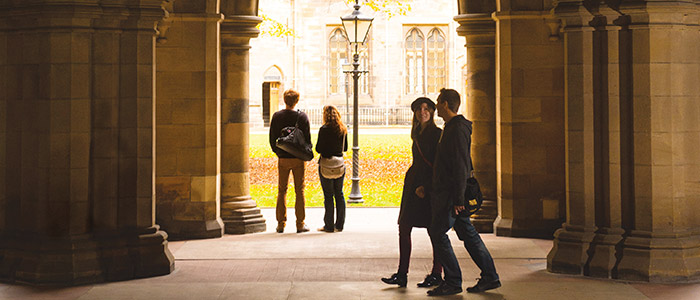 Visit our beautiful campus and find out more about your future at Glasgow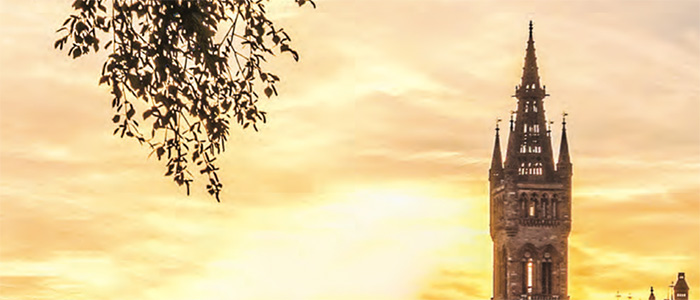 Postgraduate prospectus 2015
Our new programme gives you dedicated, supported time to complete a substantial creative work and, in the second year, includes opportunities to teach writing to undergraduates. It offers ideal hybrid opportunities of taught seminar and workshop elements and substantial one-to-one supervision to support your creative work.
Key facts
As a celebrated creative writing programme, it is perfect for talented writers looking to gain creative and critical skills.
We have strong links with literary agents, and offer the annual Sceptre Prize for new writing, in association with Hodder.
In the first year, you will engage in literary and practice-based study via seminars while beginning your own considerable creative work, supported by workshops and supervision.
In the second year, you will continue literary and creative study and also embark upon our unique Practical pedagogy course, which is classroom based in the first semester and then provides the opportunity to design, organise and teach creative writing courses to undergraduates.
You will have one-to-one supervision with writers on staff and submit a substantial and distinctive creative work (up to 50,000 words prose/poetry equivalencies) at the end of the second year, which is subject to external examination.
You will participate in seminars that investigate unfamiliar, formal and thematic areas, and encourage experimentation and risk-taking. These seminars entail wide reading of primary texts.
Glasgow is a city known for its culture and our students get involved in festivals, events, radio and literary magazines.
Core courses
Practice as research
Practical pedagogy
We will encourage you to delve into expansive fields of literature and you will take up to four elective courses and can choose optional courses from English Literature, Scottish Literature, Comparative Literature and Translation Studies or any MLitt across the College of Arts.
for entry in 2015
This is a popular and selective programme.
A 2.1 Honours degree or equivalent qualification (eg GPA of 3.0 or above) in a relevant subject. Applicants who already have a MLitt in Creative Writing may be admitted to the second year of the MFA programme, subject to a satisfactory application.
You submit a portfolio of original work (poetry, fiction, life-writing or other prose, drama, and in some instances a portfolio of work in or of translation). A maximum of 30 pages (one side only, double spaced throughout) per submission will be considered, and the portfolio can contain prose, verse, script, or a combination of these.
We also require at least one letter of reference. Your referees should include an academic and a creative referee where possible. Where this is not possible, you can provide referees from other areas who can vouch that you are who you say you are and that your work and achievements are your own. It is particularly helpful if these referees are familiar with your writing and can provide references on that basis.
For applicants whose first language is not English, the University sets a minimum English Language proficiency level.
International English Language Testing System (IELTS) Academic module (not General Training):
overall score 7.0
no sub-test less than 7.0
or equivalent scores in another recognised qualification (see below)
Common equivalent English language qualifications:
ibTOEFL: 92; no sub-test less than 22 with Speaking no less than 23*
CAE (Cambridge Certificate of Advanced English): 185; no sub-test less than 185
CPE (Cambridge Certificate of Proficiency in English): 185; no sub-test less than 185
PTE Academic (Person Test of English, Academic test): 68; minimum 60 in writing
* Please note that TOEFL is still acceptable for admission to this programme for both home/EU and international students.
For international students, the Home Office has confirmed that the University can choose to use TOEFL to make its own assessment of English language ability for visa applications to degree level courses. We therefore still accept TOEFL tests taken in the last two years for admission to this programme.
Pre-sessional courses
The University of Glasgow accepts evidence of the required language level from the Language Centre Pre-sessional courses. We also consider other BALEAP accredited pre-sessional courses:
What do I do if...
my language qualifications are below the requirements?
The University's Language Centre offers a range of Pre-Sessional Courses to bring you up to entry level. The course is accredited by BALEAP, the UK professional association for academic English teaching; see Links.
my language qualifications are not listed here?
Please contact the Recruitment and International Office: pgadmissions@glasgow.ac.uk
If you require a Tier 4 student visa, your qualification must be one of the secure English language tests accepted by UK Border Agency:
Visa requirements and proof of English language level
It is a visa requirement to provide information on your level of English based on an internationally recognised and secure English language test. All test reports must be no more than 2 years old. A list of these can be found on the UK Border Agency website. If you have never taken one of these tests before, you can get an initial idea of your level by using the Common European Framework self-assessment grid which gives you a level for each skill (e.g. listening B1/writing B2 etc.) However, please note that this is not a secure English language test and it is not sufficient evidence of your level of English for visa requirements.
If you require a Tier 4 student visa, your qualification must be one of the secure English language tests accepted by UK Border Agency:
For further information about English language requirements, please contact the Recruitment and International Office: pgadmissions@glasgow.ac.uk
Tuition fees for 2015-16 (subject to change and for guidance only)
MFA
Home and EU
Full time fee
£6800
Part time 20 credits
£756
International
Full time fee
£14500
This is a two year programme. Students will be charged the same fee in each of the two years. Students entering 1st year in 2015/16 will be charged 2015/16 fees for both their 1st and 2nd years.
Funding opportunities
Graduates have become well-published and acclaimed authors, editors and publishers.
The MFA is the qualification required to teach creative writing in North America and Europe.
We ask that you apply online for a postgraduate taught degree. Our system allows you to fill out the standard application form online and submit this to the University within 42 days of starting your application.
You need to read the guide to applying online before starting your application. It will ensure you are ready to proceed, as well as answer many common questions about the process.
Do I have to apply online for a postgraduate taught degree?
Yes. To apply for a postgraduate taught degree you must apply online. We are unable to accept your application by any other means than online.
Do I need to complete and submit the application in a single session?
No. You have 42 days to submit your application once you begin the process. You may save and return to your application as many times as you wish to update information, complete sections or upload additional documents such as your final transcript or your language test.
What documents do I need to provide to make an application?
As well as completing your online application fully, it is essential that you submit the following documents:
A copy (or copies) of your official degree certificate(s) (if you have already completed your degree)
A copy (or copies) of your official academic transcript(s), showing full details of subjects studied and grades/marks obtained
Official English translations of the certificate(s) and transcript(s)
Two supporting reference letters on headed paper
Evidence of your English Language ability (if your first language is not English)
Any additional documents required for this programme (see Entry requirements for this programme)
A copy of the photo page of your passport (Non-EU students only)
If you do not have all of these documents at the time of submitting your application then it is still possible to make an application and provide any further documents at a later date, as long as you include a full current transcript (and an English translation if required) with your application. See the 'Your References, Transcripts and English Qualification' sections of our Frequently Asked Questions for more information.
Do my supporting documents need to be submitted online?
Yes, where possible, please upload the supporting documents with your application.
How do I provide my references?
You must either upload the required references to your online application or ask your referees to send the references to the University as we do not contact referees directly. There is two main ways that you can provide references: you can either upload references on headed paper when you are making an application using the Online Application (or through Applicant Self-Service after you have submitted your application) or you can ask your referee to email the reference directly to pgadmissions@glasgow.ac.uk. See the 'Your References, Transcripts and English Qualifications' section of the Frequently Asked Questions for more information.
What if I am unable to submit all of my supporting documents online?
If you cannot upload an electronic copy of a document and need to send it in by post, please attach a cover sheet to it that includes your name, the programme you are applying for, and your application reference number.
You may send them to:
Recruitment & International Office
71 Southpark Avenue
Glasgow
G12 8QQ
Fax: +44 141 330 4045
Can I email my supporting documents?
No. We cannot accept email submissions of your supporting documents.
What entry requirements should I have met before applying? Where can I find them?
You should check that you have met (or are likely to have met prior to the start of the programme) the individual entry requirements for the degree programme you are applying for. This information can be found on the 'entry requirements' tab on each individual programme page, such as the one you are viewing now.
What English Language requirements should I have met before applying? Where can I find them?
If you are an international student, you should also check that you have met the English Language requirements specific to the programme you are applying for. These can also be found on the 'entry requirements' tab for each specific programme.
Further Information
Please see the Frequently Asked Questions for more information on applying to a postgraduate taught programme.
Guidance notes for using the online application
These notes are intended to help you complete the online application form accurately, they are also available within the help section of the online application form. If you experience any difficulties accessing the online application then you should visit the Application Troubleshooting/FAQs page.
Name and Date of birth: must appear exactly as they do on your passport. Please take time to check the spelling and lay-out.
Contact Details: Correspondence address. All contact relevant to your application will be sent to this address including the offer letter(s). If your address changes, please contact us as soon as possible.
Choice of course: Please select carefully the course you want to study. As your application will be sent to the admissions committee for each course you select it is important to consider at this stage why you are interested in the course and that it is reflected in your application.
Proposed date of entry: Please state your preferred start date including the month and the year. Taught masters degrees tend to begin in September. Research degrees may start in any month.
Education and Qualifications: Please complete this section as fully as possible indicating any relevant Higher Education qualifications starting with the most recent. Complete the name of the Institution (s) as it appears on the degree certificate or transcript.
English Language Proficiency: Please state the date of any English language test taken (or to be taken) and the award date (or expected award date if known).
Employment and Experience: Please complete this section as fully as possible with all employments relevant to your course. Additional details may be attached in your personal statement/proposal where appropriate.
References: Please provide the names and contact details of two academic references. Where applicable one of these references may be from your current employer. References should be completed on letter headed paper and uploaded on to your application.
Application deadlines for entry in Sept 2015
28 Nov 2014*- Please apply by this date to receive a decision on your application by 18 December 2014
(if applying for funding from the University of Glasgow, this deadline must be met)
27 Feb 2015 - Please apply by this date to receive a decision on your application by 20 March 2015
22 May 2015 - Please apply by this date to receive a decision on your application by 12 June 2015
We cannot guarantee that applications received after 22 May 2015 will be considered for 2015 entry. Please contact critstudies-pgenquiries@glasgow.ac.uk if you have any queries regarding this.
As we receive a great many applications, prospective students are only allowed to apply once per year