Composition
PgDip/PgCert
Related links
Other programmes in the subject of Music: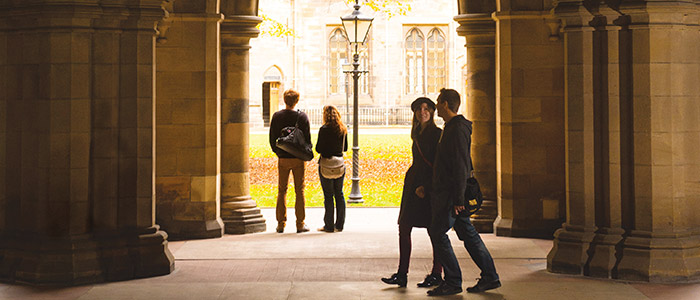 Visit our beautiful campus and find out more about your future at Glasgow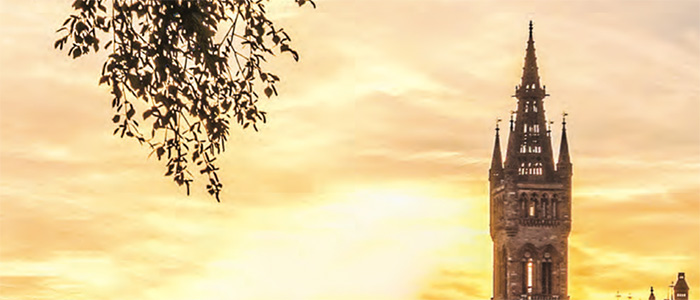 Postgraduate prospectus 2015
This programme has been designed to meet the needs of professional composers and musicians. You will develop practice-based skills in music and gain a thorough knowledge of contemporary contexts for compositional activity. You will develop a composition portfolio, accompanied by critical reflection on the compositional process in the form of a critical commentary. Your supervisor will be one of our team of successful, experienced composers, who engage with a range of technical approaches reflecting a wide variety of contemporary styles. Applicants should have experience of composing music.
Key facts
You will benefit from access to our facilities including seminar and practice rooms, a small library, two audio labs and an electroacoustic music studio, the University's concert hall and attached studios.
The city of Glasgow has a vibrant and exciting music scene: the UK's first UNESCO city of music.
We have arranged a series of workshops with a sinfonietta-sized ensemble from the Royal Scottish National Orchestra. As well as providing a professional environment in which to develop, the workshops may lead to performance opportunities. These will complement our existing workshops with groups such as the Viridian Quartet and the student-led contemporary music ensemble.
You will work with tutors on your composition portfolio(s) and attend research seminars and workshops.
The PgDip consists of two composition portfolios, each consisting of 15 minutes of music accompanied by a critical commentary of up to 2,000 words. You will also be introduced to the compositional process at postgraduate level, meeting regularly with supervisors.
The PgCert consists of a composition portfolio of 15 minutes of music accompanied by a critical commentary of up to 2,000 words.
Music facilities within the School include three studios, the Audio Lab, a small library and a number of seminar and practice rooms. The School also has preferential access to the University Concert Hall. For more information on bookings rooms, please contact the Music Secretary, or refer to the Music Handbook for details.

Please note, the Music facilities are only for those students enrolled on Music courses within the School of Culture & Creative Arts. For all other University of Glasgow students, please visit the St. Andrews Building for practice rooms.
University Concert Hall
A short walk from the Music building, in the University's main Gilbert Scott building, is the University Concert Hall. The School has preferential access to the hall and uses it extensively for recitals, performance practice and teaching. The Concert Hall houses two Steinway Model D grand pianos, an 1840s Broadwood grand, and a Mozart-era fortepiano, two chamber organs (one an 18th-century Snetzler), two harpsichords, an extensive range of percussion and other instruments for the performance of orchestral and contemporary music. In addition to the instruments housed in the Concert Hall the School also owns a fine consort of viols, baroque strings, recorders, crumhorns and other wind instruments. The Concert Hall also houses Music's Diffusion System for the public performance of electroacoustic music.
Practice Rooms
Music students have access to ten practice rooms for solo instrumental or ensemble practice. Five of these rooms are located in the Music building, with three in the adjacent Modern Languages Buiding and the remaining two soundproof rooms in the Hetherington Building.

The largest of the Music rooms, 'The Club Room' contains a baby grand piano and is big enough for ensemble rehearsal. All other rooms contain an upright piano, a full length mirror and a music stand. These rooms can be booked in advance, for up to 2 hours a day by students studying within Music.
Music Library
The Music building houses its own small reference library. It holds a high quality selection of books and scores that complement those provided by the main University Library. In addition, the Music Library also houses eight PC workstations running Microsoft Office and Finale notation software. Each machine has an attached MIDI keyboard for quick and intuitive notation entry. A microfiche scanner is also provided to aid musicological research.
Audio Lab
Students have access to the Music Audio Lab for audio production, acoustics, composition and sound synthesis work. The lab contains 12 Apple iMacs each with Avid audio hardware, a MIDI keyboard and a comprehensive suite of installed software including:-


Finale
Pro Tools - including RTAS plug-ins by:

Cycling 74
GRM Tools
Cycling 74 Max
Each machine is connected to a high quality playback system.
Studios
The School has three studios dedicated to composition and audio production. Studios One and Two are housed in the Gilbert Scott Building above the Concert Hall. Both feature audio tie-lines linking them to the Concert Hall, the Bute Hall and each other. Studio Three is a smaller composition studio housed in the Music building.

All the studios are based around Apple Mac G5 digital audio workstations running a comprehensive suite of applications including:-
Pro Tools - with RTAS plug-ins by:

Cycling 74
GRM Tools
Sony Oxford

Cycling 74 - Max
Finale
Diffusion System

The Diffusion System is used for public performances of music by international and Glasgow based composers including current students. The system is located in the University Concert Hall. It comprises an 8-channel speaker array and sound diffusion desk for live sound processing and spatialisation.

Diffusion hardware includes:


Genelec 1031 active speakers
d&b D12 amplifiers
d&b Q10 loudspeakers
d&b Q-SUB subwoofers
Mackie 1604 mixers
ATC100 active speakers (shared with Edinburgh University and the RSAMD)
ATC50 active speakers (shared with Edinburgh University and the RSAMD)
for entry in 2015
A 2.1 Honours degree or equivalent qualification (eg GPA of 3.0 or above) in a relevant subject. Applicants should also have experience of composing music.
For applicants whose first language is not English, the University sets a minimum English Language proficiency level.
International English Language Testing System (IELTS) Academic module (not General Training):
overall score 7.0
no sub-test less than 7.0
or equivalent scores in another recognised qualification (see below)
Common equivalent English language qualifications
All stated English tests are acceptable for admission for both home/EU and international students for this programme:
ibTOEFL: 92; no sub-test less than 22 with Speaking no less than 23
CAE (Cambridge Certificate of Advanced English): 185; no sub-test less than 185
CPE (Cambridge Certificate of Proficiency in English): 185; no sub-test less than 185
PTE Academic (Person Test of English, Academic test): 68; minimum 60 in writing
For international students, the Home Office has confirmed that the University can choose to use these tests to make its own assessment of English language ability for visa applications to degree level programmes. The University is also able to accept an IELTS test (Academic module) from any of the 1000 IELTS test centres from around the world and we do not require a specific UKVI IELTS test for degree level programmes. We therefore still accept any of the English tests listed for admission to this programme.
Pre-sessional courses
The University of Glasgow accepts evidence of the required language level from the Language Centre Pre-sessional courses. We also consider other BALEAP accredited pre-sessional courses:
What do I do if...
my language qualifications are below the requirements?
The University's Language Centre offers a range of Pre-Sessional Courses to bring you up to entry level. The course is accredited by BALEAP, the UK professional association for academic English teaching; see Links.
my language qualifications are not listed here?
Please contact the Recruitment and International Office: pgadmissions@glasgow.ac.uk
For further information about English language requirements, please contact the Recruitment and International Office: pgadmissions@glasgow.ac.uk
Tuition fees for 2016-17
PgCert
Home and EU
Full time fee
£2317
Part time 20 credits
£772
International
Full time fee
£5083
PgDip
Home and EU
Full time fee
£4633
Part time 20 credits
£772
International
Full time fee
£10167
Fees are subject to change and for guidance only
Funding opportunities
Our degree programmes open up opportunities to access or advance careers in the creative industries, whether working as a professional composer or musician, in the music industry for a record company, management company or promoter, or in the media industry. Some graduates have combined their degrees with other studies to pursue careers in areas such as law and education.
We ask that you apply online for a postgraduate taught degree. Our system allows you to fill out the standard application form online and submit this to the University within 42 days of starting your application.
You need to read the guide to applying online before starting your application. It will ensure you are ready to proceed, as well as answer many common questions about the process.
Do I have to apply online for a postgraduate taught degree?
Yes. To apply for a postgraduate taught degree you must apply online. We are unable to accept your application by any other means than online.
Do I need to complete and submit the application in a single session?
No. You have 42 days to submit your application once you begin the process. You may save and return to your application as many times as you wish to update information, complete sections or upload additional documents such as your final transcript or your language test.
What documents do I need to provide to make an application?
As well as completing your online application fully, it is essential that you submit the following documents:
A copy (or copies) of your official degree certificate(s) (if you have already completed your degree)
A copy (or copies) of your official academic transcript(s), showing full details of subjects studied and grades/marks obtained
Official English translations of the certificate(s) and transcript(s)
Two supporting reference letters on headed paper
Evidence of your English Language ability (if your first language is not English)
Any additional documents required for this programme (see Entry requirements for this programme)
A copy of the photo page of your passport (Non-EU students only)
If you do not have all of these documents at the time of submitting your application then it is still possible to make an application and provide any further documents at a later date, as long as you include a full current transcript (and an English translation if required) with your application. See the 'Your References, Transcripts and English Qualification' sections of our Frequently Asked Questions for more information.
Do my supporting documents need to be submitted online?
Yes, where possible, please upload the supporting documents with your application.
How do I provide my references?
You must either upload the required references to your online application or ask your referees to send the references to the University as we do not contact referees directly. There is two main ways that you can provide references: you can either upload references on headed paper when you are making an application using the Online Application (or through Applicant Self-Service after you have submitted your application) or you can ask your referee to email the reference directly to pgadmissions@glasgow.ac.uk. See the 'Your References, Transcripts and English Qualifications' section of the Frequently Asked Questions for more information.
What if I am unable to submit all of my supporting documents online?
If you cannot upload an electronic copy of a document and need to send it in by post, please attach a cover sheet to it that includes your name, the programme you are applying for, and your application reference number.
You may send them to:
Recruitment & International Office
71 Southpark Avenue
Glasgow
G12 8QQ
Fax: +44 141 330 4045
Can I email my supporting documents?
No. We cannot accept email submissions of your supporting documents.
What entry requirements should I have met before applying? Where can I find them?
You should check that you have met (or are likely to have met prior to the start of the programme) the individual entry requirements for the degree programme you are applying for. This information can be found on the 'entry requirements' tab on each individual programme page, such as the one you are viewing now.
What English Language requirements should I have met before applying? Where can I find them?
If you are an international student, you should also check that you have met the English Language requirements specific to the programme you are applying for. These can also be found on the 'entry requirements' tab for each specific programme.
Further Information
Please see the Frequently Asked Questions for more information on applying to a postgraduate taught programme.
Guidance notes for using the online application
These notes are intended to help you complete the online application form accurately, they are also available within the help section of the online application form. If you experience any difficulties accessing the online application then you should visit the Application Troubleshooting/FAQs page.
Name and Date of birth: must appear exactly as they do on your passport. Please take time to check the spelling and lay-out.
Contact Details: Correspondence address. All contact relevant to your application will be sent to this address including the offer letter(s). If your address changes, please contact us as soon as possible.
Choice of course: Please select carefully the course you want to study. As your application will be sent to the admissions committee for each course you select it is important to consider at this stage why you are interested in the course and that it is reflected in your application.
Proposed date of entry: Please state your preferred start date including the month and the year. Taught masters degrees tend to begin in September. Research degrees may start in any month.
Education and Qualifications: Please complete this section as fully as possible indicating any relevant Higher Education qualifications starting with the most recent. Complete the name of the Institution (s) as it appears on the degree certificate or transcript.
English Language Proficiency: Please state the date of any English language test taken (or to be taken) and the award date (or expected award date if known).
Employment and Experience: Please complete this section as fully as possible with all employments relevant to your course. Additional details may be attached in your personal statement/proposal where appropriate.
References: Please provide the names and contact details of two academic references. Where applicable one of these references may be from your current employer. References should be completed on letter headed paper and uploaded on to your application.
Standard application deadlines
International applications (non-EU): 22 July 2016
UK and EU applications: 26 August 2016
Classes start September 2016 and you may be expected to attend induction sessions the week before.