Biomedical Sciences
MRes
Biomedical Sciences
Related links
Other programmes in the subject of Life Sciences: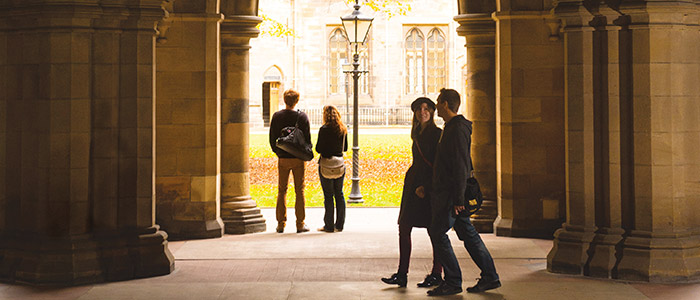 Visit our beautiful campus and find out more about your future at Glasgow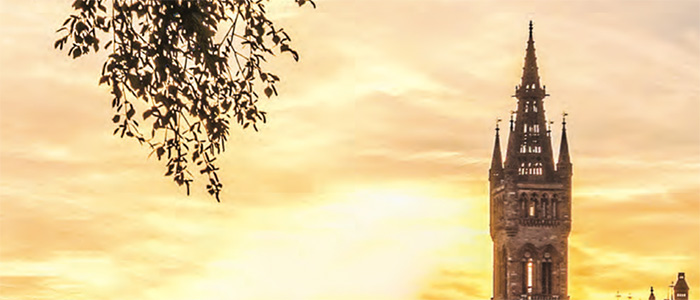 Postgraduate prospectus 2015
Prestigious Scottish Funding Council Awards are available to high calibre applicants for this programme. The SFC has selected this programme in recognition of the high demand for students with these qualifications. The awards cover all tuition costs; for further information, please see: funded places.
This Masters programme in Biomedical Sciences offers research training for students intending to proceed to PhD. It is largely based on individual research projects rather than coursework, and allows you to specialise in a particular area of study.
Key facts
MRes: 12 months full-time;
The programme provides training in a wide range of modern molecular biology techniques required to pursue a research career.
You will gain valuable practical research experience by using the skills and techniques acquired during the programme to complete two extensive research projects.
The programme is distinctive in that students complete two different extensive research projects of their choice, allowing them to acquire a wide range of knowledge and skills directly relevant to the study of human disease.
If you are aiming to study for a higher degree, this programme is designed for you.
If you want to enter the pharmaceutical and biotechnology industries, this programme provides excellent training; and is an ideal introduction for overseas students who may wish to proceed to PhD studies in the UK.
You can choose to specialise within a particular discipline or area, which can be important for career development, see programme structure below for more information.
An international PhD scholarship is available to those starting in September 2015, find out more
The overall aims of the programme are:
to provide students with the knowledge, skills and confidence needed to pursue a career in laboratory research.
to provide students with a theoretical and practical understanding of advanced techniques used in modern biomedical sciences research.
to provide students with the opportunity to practice research skills in the laboratory by completing two extensive research projects.
MRes students have the opportunity to specialise in a particular discipline or area, which can be important for their career development. The specialisations are:
Biotechnology
Cancer Studies
Cardiovascular Studies
Cell Engineering
Integrative Mammalian Biology Fee Waiver
Integrative Mammalian Biology Scholarship
Medical Biochemistry and Molecular Biology
Molecular Genetics
Neuroscience
Proteomics
To qualify for a specialisation, students must select two research projects in a cognate research area.
The central and most important part of the MRes is the two research projects that students undertake. Students choose both projects themselves in the subject areas that interest them and that will allow them to follow the career path they wish follow. The MRes programme has a huge number of projects which students can choose from, across a wide spectrum of biomedical science.
The following are examples of the types of projects offered, to illustrate the range of subject areas.
• Making blood from human embryonic stem cells
• A gene-microarray based approach to the detection of recombinant human erythropoietin doping in endurance athletes
• Neuropathology of trypanosomiasis
• Development of a new technique for stem cell transfection
• Cloning and analysis of an inflammatory factor in cancer and autoimmune disease
• Analysis of viral induced cancer
Each year students have about 100 different projects to choose from and all students find research topics that interest them.
Daniela Quintana

"I obtained a Masters of Research degree in Biomedical Sciences from the University of Glasgow in 2009. The MRes course was very stimulating and exciting as my classmates and I managed to learn a diversity of research topics in a very short time. We undertook two research projects; the University offered a variety of topics ranging from Genetics, Cell Engineering, Systems Biology, Ecology and many others. The fields of study I chose were Classic Genetics and Molecular Biology. I also had the amazing opportunity to interact with students from all over the world while getting to know other cultures. I believe obtaining a Masters of Research degree at Glasgow is a great way to prepare the path for future scientists as it provides a highly comprehensive level of research competence for a young mind set on science."
Ramya M Gundurao

"I studied MRes Biomedical Science in Glasgow University in the year 2008-2009. I had a BSc biotechnology from Bangalore University in India and wanted to do a Master's course abroad. Before joining, I was interviewed by Dr Joanna Wilson and Prof William Cushley in India and was offered the Postgraduate excellence scholarship award towards my tuition fee. The MRes course was an excellent exposure to latest research techniques and scientific experience. The layout of the programme with taught modules and research projects is very good for someone looking to gain more experience before a PhD. I did my research projects under the supervision of Dr Joanna Wilson in virology and Dr Mathis Riehle in cell engineering. Both projects taught me a lot not just in terms of theory and techniques but also in scientific thinking, analysing and planning. After passing the course with distinction, I knew I was well prepared to take on my PhD programme. Glasgow University and Glasgow city itself is a great place to be in with lots of activities happening all year round. As my first home away from home, I really enjoyed my year in Glasgow. The MRes class were a great bunch of students and I have made some good friends for life. The overall experience during the course was excellent and has played a big part in my career and personal development."
This is the annual award for best poster prize, which forms part of the MRes Biomedical Science degree. Students prepare a poster and present it to three members of staff, who question them on the content and subject area. This is excellent training for scientific meetings, where students often present their research in similar posters.
for entry in 2015
A second class Honours degree or equivalent (eg GPA of 3.0 or above) in a relevant subject. Professional experience may be taken into account.
International students with academic qualifications below those required should contact our partner institution, Glasgow International College, who offer a range of pre-Masters courses.
For applicants whose first language is not English, the University sets a minimum English Language proficiency level.
International English Language Testing System (IELTS) Academic module (not General Training)
overall score 6.5
no sub-test less than 6.0
or equivalent scores in another recognised qualification (see below)
Common equivalent English language qualifications
All stated English tests are acceptable for admission for both home/EU and international students for this programme:
ibTOEFL: 92; no sub-test less than 20
CAE (Cambridge Certificate of Advanced English): 176 overall; no sub-test less than 169
CPE (Cambridge Certificate of Proficiency in English): 176 overall; no sub-test less than 169
PTE Academic (Person Test of English, Academic test): 60; no sub-test less than 59
For international students, the Home Office has confirmed that the University can choose to use these tests to make its own assessment of English language ability for visa applications to degree level programmes. The University is also able to accept an IELTS test (Academic module) from any of the 1000 IELTS test centres from around the world and we do not require a specific UKVI IELTS test for degree level programmes. We therefore still accept any of the English tests listed for admission to this programme.
Pre-sessional courses
The University of Glasgow accepts evidence of the required language level from the Language Centre Pre-sessional courses. We also consider other BALEAP accredited pre-sessional courses:
What do I do if...
my language qualifications are below the requirements?
The University's Language Centre offers a range of Pre-Sessional Courses to bring you up to entry level. The course is accredited by BALEAP, the UK professional association for academic English teaching; see Links.
my language qualifications are not listed here?
Please contact the Recruitment and International Office: pgadmissions@glasgow.ac.uk
For further information about English language requirements, please contact the Recruitment and International Office: pgadmissions@glasgow.ac.uk
Tuition fees for 2016-17
PgDip
Home and EU
Full time fee
£4633
International
Full time fee
£12600
MRes
Home and EU
Full time fee
£6950
International
Full time fee
£18900
Fees are subject to change and for guidance only
Deposits
The University requires a deposit to be paid by International (beyond the EU) applicants in receipt of an offer to this programme: please see: Deposits for entry in 2015/16
Funding opportunities
We ask that you apply online for a postgraduate taught degree. Our system allows you to fill out the standard application form online and submit this to the University within 42 days of starting your application.
You need to read the guide to applying online before starting your application. It will ensure you are ready to proceed, as well as answer many common questions about the process.
Do I have to apply online for a postgraduate taught degree?
Yes. To apply for a postgraduate taught degree you must apply online. We are unable to accept your application by any other means than online.
Do I need to complete and submit the application in a single session?
No. You have 42 days to submit your application once you begin the process. You may save and return to your application as many times as you wish to update information, complete sections or upload additional documents such as your final transcript or your language test.
What documents do I need to provide to make an application?
As well as completing your online application fully, it is essential that you submit the following documents:
A copy (or copies) of your official degree certificate(s) (if you have already completed your degree)
A copy (or copies) of your official academic transcript(s), showing full details of subjects studied and grades/marks obtained
Official English translations of the certificate(s) and transcript(s)
Two supporting reference letters on headed paper
Evidence of your English Language ability (if your first language is not English)
Any additional documents required for this programme (see Entry requirements for this programme)
A copy of the photo page of your passport (Non-EU students only)
If you do not have all of these documents at the time of submitting your application then it is still possible to make an application and provide any further documents at a later date, as long as you include a full current transcript (and an English translation if required) with your application. See the 'Your References, Transcripts and English Qualification' sections of our Frequently Asked Questions for more information.
Do my supporting documents need to be submitted online?
Yes, where possible, please upload the supporting documents with your application.
How do I provide my references?
You must either upload the required references to your online application or ask your referees to send the references to the University as we do not contact referees directly. There is two main ways that you can provide references: you can either upload references on headed paper when you are making an application using the Online Application (or through Applicant Self-Service after you have submitted your application) or you can ask your referee to email the reference directly to pgadmissions@glasgow.ac.uk. See the 'Your References, Transcripts and English Qualifications' section of the Frequently Asked Questions for more information.
What if I am unable to submit all of my supporting documents online?
If you cannot upload an electronic copy of a document and need to send it in by post, please attach a cover sheet to it that includes your name, the programme you are applying for, and your application reference number.
You may send them to:
Recruitment & International Office
71 Southpark Avenue
Glasgow
G12 8QQ
Fax: +44 141 330 4045
Can I email my supporting documents?
No. We cannot accept email submissions of your supporting documents.
What entry requirements should I have met before applying? Where can I find them?
You should check that you have met (or are likely to have met prior to the start of the programme) the individual entry requirements for the degree programme you are applying for. This information can be found on the 'entry requirements' tab on each individual programme page, such as the one you are viewing now.
What English Language requirements should I have met before applying? Where can I find them?
If you are an international student, you should also check that you have met the English Language requirements specific to the programme you are applying for. These can also be found on the 'entry requirements' tab for each specific programme.
Further Information
Please see the Frequently Asked Questions for more information on applying to a postgraduate taught programme.
Guidance notes for using the online application
These notes are intended to help you complete the online application form accurately, they are also available within the help section of the online application form. If you experience any difficulties accessing the online application then you should visit the Application Troubleshooting/FAQs page.
Name and Date of birth: must appear exactly as they do on your passport. Please take time to check the spelling and lay-out.
Contact Details: Correspondence address. All contact relevant to your application will be sent to this address including the offer letter(s). If your address changes, please contact us as soon as possible.
Choice of course: Please select carefully the course you want to study. As your application will be sent to the admissions committee for each course you select it is important to consider at this stage why you are interested in the course and that it is reflected in your application.
Proposed date of entry: Please state your preferred start date including the month and the year. Taught masters degrees tend to begin in September. Research degrees may start in any month.
Education and Qualifications: Please complete this section as fully as possible indicating any relevant Higher Education qualifications starting with the most recent. Complete the name of the Institution (s) as it appears on the degree certificate or transcript.
English Language Proficiency: Please state the date of any English language test taken (or to be taken) and the award date (or expected award date if known).
Employment and Experience: Please complete this section as fully as possible with all employments relevant to your course. Additional details may be attached in your personal statement/proposal where appropriate.
References: Please provide the names and contact details of two academic references. Where applicable one of these references may be from your current employer. References should be completed on letter headed paper and uploaded on to your application.
Standard application deadlines
International applications (non-EU): 22 July 2016
UK and EU applications: 26 August 2016
Classes start September 2016 and you may be expected to attend induction sessions the week before.
Please note: applications for SFC funded places are open for entry in September 2015.