Everywoman in Technology finalist: Muffy Calder
Everywoman in Technology finalist: Muffy Calder
Issued: Mon, 09 Jan 2017 10:30:00 GMT
The finalists have been announced for the seventh annual FDM everywoman in Technology Awards - celebrating women who are changing the face of technology in the UK.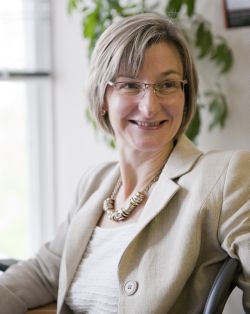 UofG's Professor Muffy Calder, Vice-Principal and Head of College of Science and Engineering, is one of three finalists in the Academic Category. The winners will be announced on 9 February
Professor Calder told Campus e-News: "I am honoured to be a finalist for this award. I consider myself very fortunate: my research is in one of the most fascinating areas of science and engineering - Computing Science - and all my colleagues at the University of Glasgow have been supportive of my research and career aspirations.
"I look forward to meeting the other finalists at the awards ceremony. My advice to women of any age is to follow your dream, make use of your talent and "just do it"'.
The FDM everywoman in Technology Awards 2017
Maxine Benson MBE, co-founder of everywoman comments: "Seven years ago we began to showcase the exceptional women working in technology in response to the industry's concern over a lack of female talent and role models. Today we are delighted to see the gender divide closing, but despite this our Awards continue to play an important part in celebrating role models at every stage of the journey from students up to senior leaders.
"The calibre and quality of this year's nominations was impressive with all those nominated demonstrating a commitment to making a difference not only within their organisations but within local communities, schools and the future of the technology sector."
This year's finalists were picked from hundreds of entries by a panel of senior technology leaders. They were singled out for their career achievements to date and potential for growth, as well as for their commitment to actively support others in the sector.
The Academic Award
This is awarded to a woman in academia who has made an outstanding contribution to technology and science, and whose work has made - or has the potential to make - a significant long-term impact in STEM. This could include using technology to enhance and support research and teaching, achieving technological breakthroughs or leveraging one's position to significantly encourage more talent into stem subjects.
This year's finalists are:
Muffy Calder, Vice-Principal and Head of College of Science and Engineering, University of Glasgow
Semali Perera, Professor of Chemical Engineering, University of Bath
Sarah Spurgeon, Professor of Control Engineering and Head of Department of Electronic and Electrical Engineering, University College London
The winners will be announced on 9 February at a ceremony and dinner at the London Hilton, preceded by the everywoman Technology Forum - a day of inspiration, learning and development, bringing together over 600 women who are aspiring to advance their careers or become future leaders.
More information
---