Conferences
Conferences

Date: Monday 27 February 2017
Time: 13:00 - 17:00
Venue: Wolfson Medical School, Yudovitz Seminar Room
Speaker: Digital Preservation Coalition, University of Glasgow Library

How can we make sure we can access our important digital data in the future? The challenge of managing and preserving all this digital 'stuff' affects us all. Come along to the first meeting of 'Aye Preserve' on the 27th February. This group will provide a space for practitioners, managers, researchers, administrators, students, dabblers, and meddlers to share their experiences of preserving digital data – from archival collections to big data and anything else.

Date: Wednesday 29 March 2017
Time: 10:00 - 16:00
Venue: Queen Elizabeth Teaching & Learning Centre
Speaker: TBC

We are excited to present a fresh and engaging programme for Industry Day 2017. It will showcase investment in a Clinical Innovation Zone and creative infrastructure to allow academics, industry partners and the NHS to work together within state of the art facilities to deliver a shared vision of a world leading precision medicine ecosystem.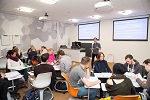 Date: Thursday 30 March 2017
Time: 09:00 - 18:00
Venue: Bute Hall, Main Building
Speaker: Professor Simon Lancaster, University of East Anglia

Annual Learning and Teaching Conference
keyword search: Conferences