Conferences
Conferences

Date: Wednesday 29 March 2017
Time: 10:00 - 16:00
Venue: Queen Elizabeth Teaching & Learning Centre
Speaker: TBC

We are excited to present a fresh and engaging programme for Industry Day 2017. It will showcase investment in a Clinical Innovation Zone and creative infrastructure to allow academics, industry partners and the NHS to work together within state of the art facilities to deliver a shared vision of a world leading precision medicine ecosystem.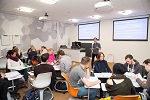 Date: Thursday 30 March 2017
Time: 09:00 - 18:00
Venue: Bute Hall, Main Building
Speaker: Professor Simon Lancaster, University of East Anglia

Annual Learning and Teaching Conference

Date: Friday 31 March 2017
Time: 09:00 - 16:30
Venue: Lighthouse Glasgow
Speaker: various

To be held in Glasgow Lighthouse on Friday, 31st March, this colloquium will be an important opportunity for private and public sectors to discuss and debate on, the stand and competitiveness of UK's high-tech sectors and innovation activities; the potential impacts of the Brexit on UK's high-tech sectors, and how these sectors and specially designated knowledge spaces could react to Brexit and future uncertainties through innovative business models.

Date: Wednesday 5 April 2017
Time: 09:00 - 16:00
Venue: Large Lecture Theatre (Rm. 236), Laboratory of Human Anatomy, Thomson Building, University of Glasgow
Speaker: Multiple

This is the first ever Visualisation in Science Conference celebrating and showcasing the research, scholarship and technology enhanced learning and teaching activities across the College of Medical, Veterinary and Life Sciences. The programme is highlighted below with 14 presentations and a keynote speaker from the Acting Director of the School of Simulation and Visualisation, Glasgow School of Art.

Date: Tuesday 18 April 2017
Time: 09:30 - 16:30
Venue: Yudowitz Seminar Room, Wolfson Medical Building
Speaker: Various

This free event aims to encourage a culture of collaboration around end of life research at the University of Glasgow. This is a chance to hear end of life researchers introduce their current research, to showcase your own research and to meet other people interested in academic research into end of life issues around the world. All disciplines are welcome.

Date: Monday 12 June 2017
Time: 09:00 - 17:00
Venue: Wolfson Medical School Building, Gannochy and Hugh Fraser Seminar rooms
Speaker: various students

The Institute of Health and Wellbeing, University of Glasgow, is excited to announce the fifth annual student led conference, taking place in June 2017. This is an important opportunity for students to showcase their work to peers within the Institute. The conference will take place in a supportive environment in which students from various departments in the Institute can meet, network, and present papers and posters. We also have two fantastic plenary sessions lined up.
1 | 2